Sadé Dozan of Caring Across Generations discusses the Build Back Better bill, which would put some $150 billion into Medicaid-supported homecare services.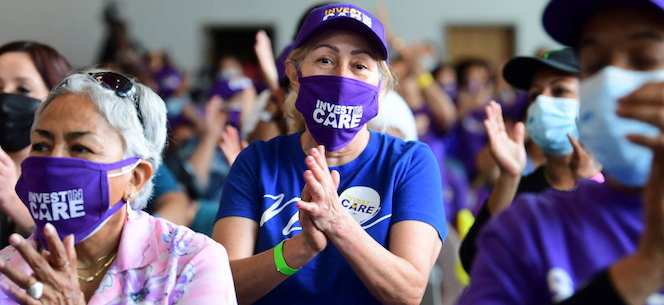 Subscribe to the Belabored RSS feed here. Support the podcast on Patreon. Subscribe and rate on iTunes, Stitcher, and Spotify. Tweet at @DissentMag with #Belabored to share your thoughts, or join the conversation on Facebook. Check out the full archive here. Belabored is produced by Colin Kinniburgh.
The Build Back Better bill, also known as the "human infrastructure" package, was just passed by the House. The bill, which still needs to pass the Senate, includes significant investments in home and community-based care—these are the home health aides and other direct care workers who tend to seniors and people with disabilities. As we've reported before on Belabored, this has long been an undervalued and overlooked component of the healthcare workforce, and for decades, homecare workers—the vast majority low-income women and women of color—were excluded from key federal labor protections, including the federal minimum wage. Although there have been incremental improvements in the industry's working conditions over the years as more homecare workers have organized and even unionized, homecare workers today are typically still earning poverty wages. The latest version of the Build Back Better bill, the House of Representatives just passed, would put some $150 billion into Medicaid-supported homecare services as part of a broader investment in social programs from affordable housing to preschool. In turn, labor advocates hope that additional investment in the workforce will help lift up pay scales and provide for more training. To put BBB in context, we spoke with Sadé Dozan, Senior Director of Development at Caring Across Generations—a labor and community advocacy group for homecare workers and families that is also linked to the National Domestic Workers Alliance. 
In other news, we look at the IATSE vote on a new agreement, a crackdown on organized labor in Thailand with organizer David Welsh, France 24 on strike, and a new deal for Kaiser workers. With recommended reading on the trucking supply chain and nonprofit union hypocrisy.
Thank you for listening to our 235th episode! If you like the show, you can support us on Patreon with a monthly contribution, at the level that best suits you.
If you're interested in advertising on the show, please email ads@dissentmagazine.org. And as always, if you have any questions, comments, or tips, email us at belabored@dissentmagazine.org

News
Tula Connell, Thai Public Employees Campaign to Save Jobs, Union Rights,Solidarity Center
Gene Maddaus, Autoworkers at John Deere will remain on strike after voting down another tentative deal, CNN Business
Tyler Jett, IATSE Members Vote to Ratify Contract, Ending Strike Threat, Variety
Conversation
Daniella Silva, Home care advocates, those needing services say Build Back Better funding 'critically important' for industry, NBC 
Build Back Better Reconciliation Framework Represents Historic Progress for Home Care Workers, Women of Color, Aging Adults, and People With Disabilities, National Domestic Workers Alliance
Michelle: Why We Need to Take Care of the Workers Behind Home Health Care, The Nation 
Michelle: With Medicaid and Health Care Under Attack, Home Care for the Aging Faces Crisis, Truthout 
Michelle: Crying Before Work, but Still Showing Up, Dissent 
Argh, I wish I'd written that!
Hamilton Nolan, The ACLU of Illinois Seeks a Playbook for Acceptable Progressive Union Busting, In These Times 
E. Tammy Kim, All Eyes Are on the Nation's Ports. Can Truck Drivers Make the Most of It? New York Times