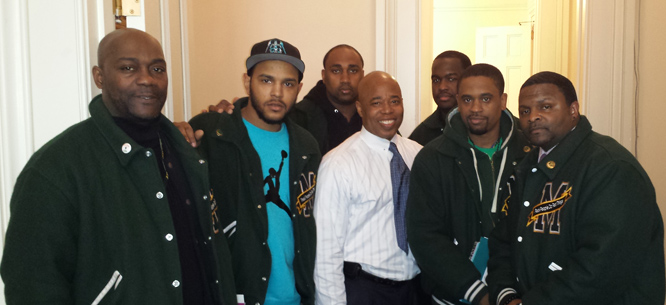 On the evening of Sunday, July 29, two "violence interrupters"—staff members of the Brooklyn-based organization Man Up! Inc.—rushed to the borough's Brookdale University Hospital. A man had been shot in the face outside a Quickmart in East New York, and they were there to make sure that his relatives were not planning to take revenge for the shooting.
Man Up! is one of at least six organizations in New York City using the Cure Violence method, conceived by Dr. Gary Slutkin, an epidemiologist at the University of Illinois, to prevent violence on the west side of Chicago. Cure Violence involves training members of the community—often former gang members with a history of incarceration—to patrol streets, mediate disputes, and prevent retaliation.
Interrupters don't report illegal activity to the police, for fear of losing credibility with the community. Instead, they talk to people to resolve conflicts. They also work to address the root causes of violence by directing at-risk individuals to resources like tutoring, job trainings, and mental health services. According to a 2012 report by the New York City Council's Task Force to Combat Gun Violence, Cure Violence—when properly implemented—reduces shooting incidents by between 16 and 34 percent.
New York City Mayor Bill de Blasio announced this August that the city will invest $12.7 million—nearly triple the previous year's budget allocation—in Cure Violence programs, expanding the programs' reach to fourteen of the city's highest-crime precincts. The expansion will also establish a Gun Violence Crisis Management Center to coordinate the work of anti-violence organizations and city agencies. The Center will oversee "by far the biggest public health program to address gun violence in the country," according to Charles Ransford, a spokesperson for Cure Violence, the national organization that trained Man Up!'s staff.
Regrettably, unstable financial support has meant a rocky start for Cure Violence programs across the country. Several of the existing Cure Violence programs in New York were originally launched in 2010 through a state program called SNUG (Guns spelled backwards). Just two years later, Governor Cuomo slashed the program, and Man Up! Inc. was forced to lay off ten trained staff members.
"Unstable funding really cripples all the work that we've been doing," said Andre Mitchell, the founder of Man Up! Inc. If each violence interrupter is working with ten people, ten layoffs may mean one hundred high-risk individuals drop from the program. (Thankfully, City Council and private donations have helped Man Up! to scale back up to its original size in the years since, and SNUG has been restored to areas in upstate New York.)
Even in Chicago, where Cure Violence was pioneered, practitioners have struggled to keep the program alive. In 2008, when Illinois governor Rod Blagojevich discontinued the city's funding for Cure Violence (then called CeaseFire Chicago, the same group featured in the award-winning documentary The Interrupters), the program's budget fell from $9.4 million to $3.2 million, causing the program to end support for several neighborhoods. Ebbs and flows in government funding have continued to plague the Chicago program in recent years.
Despite the program's shaky financial underpinnings, Cure Violence founder Dr. Gary Slutkin has worked to spread Cure Violence to eight cities in the United States, including Oakland, Baltimore, and Philadelphia, and to seven other countries, including Iraq. From 2008 to 2013, the State Department funded a Cure Violence project designed to help resolve sectarian disputes in Basra.
The Obama administration has expressed strong support for public health approaches to crime, but federal funding remains in short supply. A recent grant from the Office of Juvenile Justice and Delinquency Programs to community-based anti-violence initiatives received seventy applications and could only award six grants. Meanwhile, Ransford told me, it is comparatively easy for cities to access funds for "law enforcement approaches" to dealing with violence.
Kenya Bryan of LIFE Camp, Inc., which implements a violence interrupter program in Jamaica, Queens, said that she'd like to see the NYPD undergo the same trainings as Cure Violence mediators, and work more closely with Cure Violence to direct at-risk individuals to services. At present, the relationship between the NYPD and violence interrupters can be rocky, practitioners of Cure Violence said, with police accusing interrupters of encouraging crime by refusing to report illegal activity. Yet Bryan insisted that the two groups share a mission. "There's a way that we can work together if both of our common goals is to save lives," she said.
An Economist article describing the Cure Violence method in 2009 said that New York's "zero tolerance" tactics, which for two decades have dictated the policing strategies of cities across the country, would fall out of fashion, and we'd see the rise of a strategy "almost the exact opposite."
While the de Blasio administration may be bankrolling that new strategy, the mayor's choice to reappoint William Bratton as police chief struck many New Yorkers as a concession to the status quo. Bratton, in his first tenure as New York City Police Commissioner in the 1990s, pioneered the tactics that earned his successor (and now predecessor) Ray Kelly so much criticism—quota-based, broken windows–style policing, in which officers are incentivized to make a large number of arrests for small crimes. The announcement of the funding expansion came on the heels of protests over the death of black Staten Island resident Eric Garner, who suffered a heart attack while in a chokehold by a NYPD officer. Commissioner Bratton announced in September that he will hold trainings to teach officers how to avoid excessive force and to better acquaint them with the communities they are serving. He also admitted that some tactics have been unnecessarily aggressive and has called for a shift "from an overarching focus on police activity as measured in the numbers of stops, summonses, and arrests to an emphasis on collaborative problem solving with the community."
Daniel Sanchez of the Justice Committee, an organization that advocates for police accountability, is skeptical about Bratton's promises. Though he praised the expansion of Cure Violence, he said the city has yet to invest what is needed to truly tackle poverty, create jobs, and improve educational opportunities for people of color.
For violence is not only a public health issue, it's also an economics issue. "The answer to crime is economic development and job creation, not police containment," said former East New York Councilman Charles Barron, who is running for State Assembly in New York's 60th district. He would like to see anti-violence organizations and economic opportunities expanded—and policing in communities of color reduced.
On September 30, the Police Reform Organizing Project called on de Blasio and Bratton to hold true to their promises, demanding that the NYPD "abolish and replace the quota sytem" and "provide community involvement in crime prevention." They cited alternative models, including Boston's Operation Ceasefire program, in which police work with gang members and community leaders to stop shootings, and New Orleans' NOLA for Life initiative, a comprehensive strategy to address violence in the city that includes a sixty-five-point plan to reform the police department, support for Cure Violence programs, and investments in prevention.
There is, in other words, much work to be done. While de Blasio's funding plans are a step forward for the City of New York and should be celebrated for their potential to shape the national dialogue about criminal justice reform, it remains to be seen whether they will be part of a larger transformation in the city's policing strategies and economic priorities. As Mitchell of Man Up! reminds us, the city's $12.7 million expansion of Cure Violence will in itself take time and effort.
"There's a lot of work that comes with this and a lot of risks," he said, noting that he will be helping grassroots organizations to start new Cure Violence programs in precincts across the city. "I'm going to be very mindful and very watchful to see how they do."
---
Abigail Savitch-Lew is a journalist and fiction writer living in Brooklyn and a current intern at Dissent.