As Hong Kong marks twenty years since its return to Chinese sovereignty, Beijing's tightening grip on the territory is calling into question its future as an international arts hub.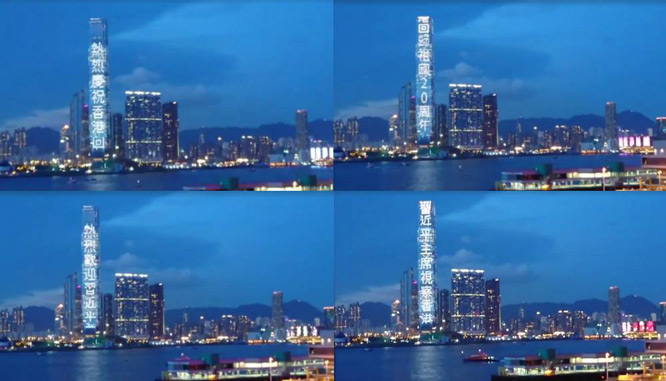 Late last week, as Hong Kong celebrated the twentieth anniversary of its return to Chinese sovereignty, pixels of white flickered on the slick glass façade of Hong Kong's second-tallest skyscraper. The Chinese characters gliding up the building's 108 stories bore a staunch Communist-style exhortation: "Enthusiastically Celebrate the 20th Anniversary of Hong Kong's Return to the Motherland, Fervently Welcome President Xi Jinping's Inspection of Hong Kong." This greeting—coinciding with President Xi's first visit to Hong Kong since taking power—is now raising fears about the freedom of artistic expression in Hong Kong, calling into question its future as an international arts hub.
For artist Sampson Wong, glimpsing this message gave rise to a cocktail of emotions marrying surprise, bitterness, and exasperation. Just one year ago, his own light installation on that very same building had been censored.
His artwork, known as the Countdown Machine, had been created with artist Jason Lam Chi-fai, with whom he forms the Add Oil Team. It was a countdown clock, projected on the side of the International Commerce Centre (ICC) tower, depicting the number of seconds ticking down until July 1, 2047, when the current "One Country, Two Systems" guarantee underpinning Hong Kong's way of life is set to expire.
Even though this artwork solely consisted of numbers, arts administrators pulled the plug on it after less than a week because of its political nature. It may just have been a coincidence that this act of censorship happened during a visit by China's third-ranking leader Zhang Dejiang, who recently signaled Beijing's intent to tighten its grip on the territory. Those who suspended the artwork argued that building facades should not carry political messages or propaganda, a message that was echoed by other curators and cultural practitioners in the ensuring debate. The Arts Development Council also accused the artists of disrespectful behavior by changing the artwork's name and statement without consultation, and warned that their action might put at risk "any future possibility to work further in the public space."
Now the very same building was hosting an explicitly political message, apparently without such concerns. To Wong, this blatant display of hypocrisy was also an object lesson crystallizing some of his worst fears. In response, he penned a piece for a local independent news site titled "When Everything Becomes Sensitive." He wrote,
What was not sensitive yesterday has become sensitive today. Every day everybody becomes increasingly anxious. More and more tiny things are deemed to be 'potentially troublesome'. . . . That kind of atmosphere can be intentionally created. Once that atmosphere exists, those with power simply have no need to issue any orders. Everyone will prematurely submit: there will be no day where a new standard for 'sensitivity' is not reached; fear will wipe out everything.
When I interviewed him, Wong pointed to a number of recent incidents where local artists have been pressured to change their work or remove references deemed sensitive. One example came last March when Hong Kong's Leisure and Cultural Services Department tried to prevent theater producer Suie Lo Shuk-yin from using the full name of her alma mater, the Taipei National University of the Arts, in a program. At issue was the inclusion of the word "national," since Beijing sees Taiwan as a renegade province, rather than a de facto nation.
During Xi Jinping's three-day trip to Hong Kong, officially sanctioned self-censorship ensured that any form of dissent was kept far from the president's eyes to avoid potential embarrassment for local authorities. Protest slogans were removed from the streets, as were other displays deemed sensitive, including references to the Tiananmen crackdown of 1989. The intensity of the cleanup was such that one localist activist who spray-painted street signs with graffiti reading "Hong Kong has fallen for 20 years" was detained for twenty-four hours, along with two of his family members.
The response by Add Oil Machine was another artwork, this time titled "A Harbour Without Fireworks," which had been planned beforehand but took on an added significance. This was in reference to the blockbuster twenty-three minute fireworks extravaganza, costing HK$12 million ($1.5 million U.S.), that lit up Hong Kong's Victoria Harbour on July 1, the night of the anniversary. This too had proved controversial, since some of the 39,888 pyrotechnic shells blasted into the sky were designed to explode into simplified Chinese characters spelling out the word "China." Hong Kong still uses the more complex traditional characters, so the use of simplified characters had sparked anger, with one lawmaker asking plaintively, "Why can't we even defend our own characters at the twentieth anniversary of the handover?"
"We want to create something for people who want to look away," Wong explained, as he described why he had created a video, designed to be streamed during the fireworks, excising the celebrations. The section of the population indisposed to celebrate Chinese rule is significant; in 2014, tens of thousands of Hong Kong residents occupied some of the island's most important thoroughfares for 79 days to demand greater democracy, and the most recent figures show that just 3 percent of Hong Kong's 18-to-29-year-olds view themselves as broadly Chinese. Add Oil Machine's video—a kind of negative rendering of the celebrations—removes the fireworks and noise from Hong Kong's harbor, instead inserting the Countdown Machine ticking down the seconds till 2047. Within twenty-four hours of posting, the video had garnered some 50,000 views.
"It's not just about art or buildings," Wong said, explaining the video's popularity. "Throughout the three days of Xi's visit, there isn't any space for dissidents to express themselves in public spaces. We should create alternative public spaces electronically to defend space where there is still dissidence."
This tale of two artworks has not gone unnoticed. Lawmaker Claudia Mo, from the Hong Kong First party, posted video of the official welcome message to Xi on Facebook, with the tag #ForTheRecord. In an online interview, she compared Hong Kong's situation to that of the frog in boiling water, unable to notice the temperature mounting until it had already been boiled. She fears Hong Kong residents are slowly being conditioned to understand the limitations expected under Chinese rule; as she puts it, "Creativity will still be allowed, as long as you're politically correct." This is, she fears, the "start of 1984 society HK-style."
Meanwhile, the original act of censorship against Add Oil Machine had inspired a work of poetry from the local poet Tammy Ho Lai-Ming. "Two Zero Four Seven," which has just been published in the anniversary anthology Hong Kong 20/20: Reflections on a Borrowed Place (in which I also have an essay), ends with the following words:
Let 2047 be displayed
On tall buildings and spoken of often,

Before our shared euphemism
Becomes another censored year.
When Ho saw the same building carrying a welcome message to the Chinese president, it compounded her worries about the increasing difficulty Hong Kong's artists and writers are encountering in criticizing the authorities. As she reflected on this, Ho summed up the mix of resignation and trepidation felt by many Hong Kong residents. On her Facebook wall, she posted a picture of the greeting, accompanied by two simple questions of her own: "What can be said? What more can't be said?"
---
Louisa Lim, former China correspondent for the BBC and NPR and now with the Centre for Advancing Journalism at Melbourne University, is the author of The People's Republic of Amnesia: Tiananmen Revisited (Oxford, 2014).