A preview of our summer issue.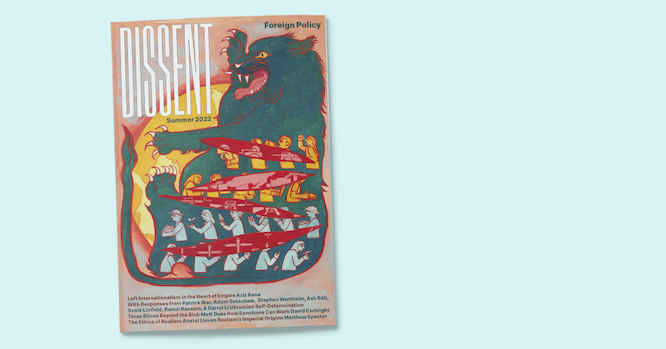 Our Summer 2022 issue, out July 5, features a special section on foreign policy. "Developments from the U.S. troop withdrawal in Afghanistan to the Russian invasion of Ukraine have placed left foreign policy voices on the defensive," Aziz Rana writes in an essay to lead off the section. "Understanding why and working through the tensions within the democratic socialist left's foreign policy world are imperative."
In the section, you'll find responses to Rana from Patrick Iber, Adom Getachew, Stephen Wertheim, Aslı Bâli, Susie Linfield, Ramzi Kassem, and Darryl Li; Taras Bilous on the war in Ukraine; an interview with Senator Bernie Sanders's foreign policy advisor Matt Duss; David Cortright on sanctions; and arguments from Anatol Lieven and Matthew Specter on realism in international affairs.
Also in the issue: Rachel Riederer on the cult of David Attenborough; Vanessa Williamson on radical taxation; Jedediah Britton-Purdy on "the people"; Ruth Milkman on the Amazon Labor Union; Brian Morton on privilege; and Lyra Walsh Fuchs on the paintings of Caroline Walker.
And in the book review section: Jennifer Wilson on Winston James's new book on Claude McKay; Casey Williams on climate adaptation; and Jeff Faux on the destructive myths behind American militarism.
Click here to subscribe right now at a 20 percent discount. If you already subscribe, please consider donating, purchasing a gift subscription, or becoming a solidarity subscriber to help sustain Dissent.