Over the course of St. Louis's history, local segregation was enforced by a tangle of public and private policies.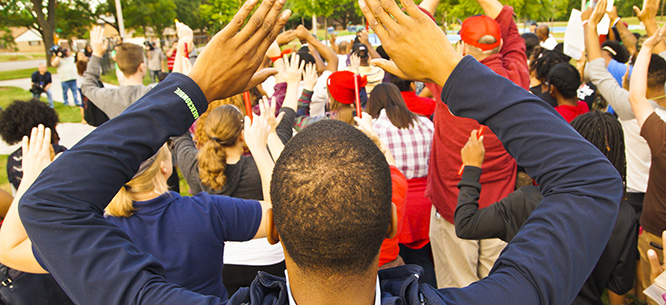 In many respects, the script is a familiar one. A deeply segregated American city; an episode of police violence; a week of rage and protest—directed against both the police and the underlying segregation—and a chillingly militarized restoration of fragile order. Detroit in the summer of 1943. Miami in 1980. Los Angeles in 1992.
At the same time, the shooting of Michael Brown and its aftermath in Ferguson, Missouri offers a twist on this story. Greater St. Louis has always been a starkly segregated city, with the lines drawn at Delmar Boulevard between the city's north and south sides and—until recently—at the border between the city and the suburbs sprawling west through St. Louis County and beyond.
Over the course of this history, local segregation was enforced and reinforced by a tangle of public and private policies. St. Louis was one of a handful of cities, early in the last century, to propose an explicitly racial zoning ordinance. When the Supreme Court checked this offense to equal protection (in 1917), the real estate industry stepped in—systematically adding race-restrictive deed covenants to transactions in white neighborhoods, and holding the line against racial transition as its core ethical standard.
When the courts outlawed race-restrictive deed covenants (in 1947), municipal zoning took over. West of the city and its inner suburbs, local zoning curtailed (and in many settings simply prohibited) all but large-lot single-family residential development. This fueled both urban sprawl and a generation of population flight, as white families rode federal subsidies (mortgage insurance, the GI Bill) out into the cornfields.
St. Louis's inner suburbs, particularly those (like Ferguson) clustered between the city and its airport in north county, played a crucial and complicated role in this story. Here the region's political fragmentation is particularly acute, a modest residential footprint carved into dozens of small municipalities—few of which claim the fiscal capacity to sustain local services, fund local schools, or maintain an aging infrastructure. Here the regulation of land use is more urban than suburban, as development preceded the postwar push for exclusionary zoning. And here the pattern of demographic change, from predominantly white occupancy to predominantly black, continues to push west. Black flight followed white flight as the city went into deeper decline: between 1980 and 2010, the population went from 85 percent white and 14 percent black to 29 percent white and 69 percent black.
The result is a potent combination: a metro area southern in its race relations and northern in its organization and regulation of property. Those race relations are always most fragile on the frontier of racial transition. And when that frontier sits in a struggling inner suburb—its citizens mostly black, its police almost exclusively white—the fuse is always lit. The surprise in Ferguson is not what happened, but why it does not happen more often.
---
Colin Gordon is a professor of history at the University of Iowa. He is the author of Mapping Decline: St. Louis and the Fate of the American City (2008) and a companion website.