A preview of our Winter 2023 issue.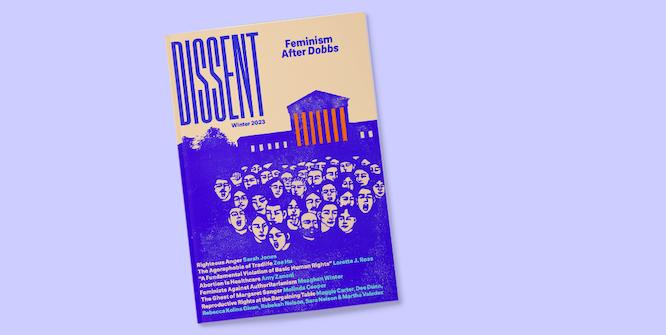 Our Winter 2023 issue, out January 9, features a special section on Feminism After Dobbs. "Anger is useless unless it is given shape and marshaled as a force that can propel a broader political movement to power," Sarah Jones writes in an introduction to the section. "With this issue of Dissent, we assert our full humanity to those who would deny it."
Subscribe now to get the issue in January.
In the section: Loretta J. Ross on reproductive justice; Amy Zanoni on abortion and the welfare state; Meaghan Winter on authoritarianism and misogyny; Zoe Hu on tradlife; Melinda Cooper on anti-eugenics and the anti-abortion movement; and a roundtable on labor and reproductive rights with Maggie Carter, Dee Dunn, Rebecca Kolins Givan, Rebekah Nelson, Sara Nelson, and Martha Valadez.
Also in the issue: Hanna Khosravi on Iranian cinema; Ariel Munczek Edelman on RuPaul's Drag Race; Joanne McNeil on a working-class art museum; Janet Afary and Kevin B. Anderson on the uprising in Iran; and Tiana Reid on machines without workers.
And in the book review section: Elias Rodriques on the poetry of Attica; Allison Brown on transgender identity and the state; and Matt Weir on Romanian writer Mircea Cărtărescu.
Click here to subscribe right now. If you already subscribe, please consider donating, purchasing a gift subscription, or becoming a solidarity subscriber to help sustain Dissent.