Join Sarah Jones and Zoe Hu for a discussion on stay-at-home girlfriends and feminism.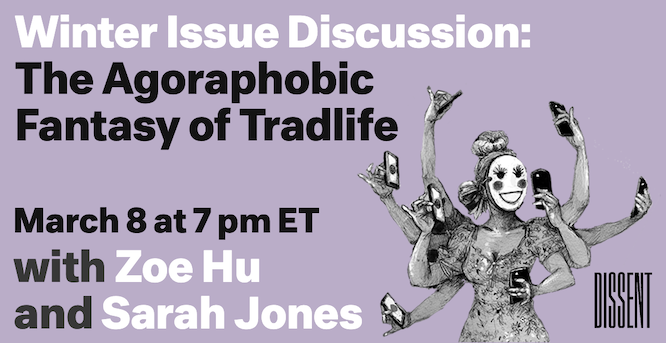 On March 8 from 7 p.m. to 8 p.m. ET, join Zoe Hu and Sarah Jones for a virtual conversation about Hu's article "The Agoraphobic Fantasy of Tradlife."
Tradlife, Hu writes, "is the handy neologism for a recent set of attitudes and lifestyles devoted to glorifying the nuclear family and its jolly scenery."
Even as tradlife looks backward, its pursuit and its rites are communicated mostly over social media in role-playing and image-making, the principal languages of such platforms. Followers post photos and videos of their ostensibly traditional families, wreathing their content with artful connotations of romance, safety, and leisure. Wives narrate to cameras the good fortune they've found in being kept women and living alongside stoic breadwinners; they publish pictures of their houses and vacations, which are visibly expensive.
But it's not just conspicuous consumption: "The twist that makes tradlife a phenomenon of our times is that it also includes earnest criticisms of life under capitalism," Hu argues. 
The conversation between Hu and Jones will be followed by an audience Q&A. RSVP here to attend.