Join us for a virtual discussion with Haymarket Books on the history of UPS and the fast-changing—and essential—logistics machine.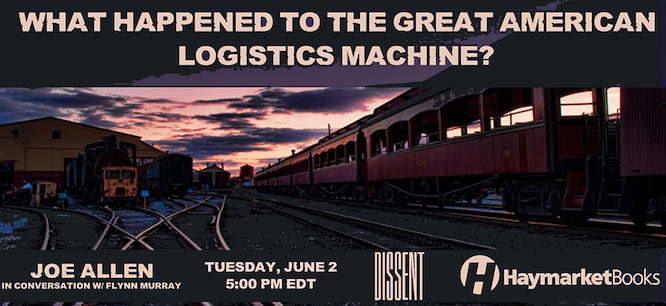 A Virtual Discussion with Joe Allen and Flynn Murray
Tuesday, June 2, 5:00PM ET / 4PM CT / 3PM MT / 2PM PT
Please register here. Event is free to the public, with suggested donations on a sliding scale.
Dissent is partnering with Haymarket Books to bring you a virtual discussion on Joe Allen's book The Package King: A Rank and File History of UPS, inspired by Allen and Murray's conversation in Dissent.
United Parcel Service (UPS) is playing a critical role in maintaining the supply chain for urgent PPE supplies and essential goods amidst the pandemic. The corporation and its' workers wield incredible amounts of power and influence, particularly now. Joe Allen will tear down the Brown Wall surrounding one of America's most admired companies.
How did UPS displace General Motors, the very symbol of American capitalism, to become the largest, private sector, unionized employer in the United States? And, at what cost to its workers and surrounding communities?
Joe Allen and Flynn Murray will discuss all this and the overarching logistics machine in the US as it attempts to keep the country afloat in these tumultuous times.
Read "The Rebirth of a Logistics Workers' Movement" today. Register now and receive an exclusive subscription discount offer.
---
Joe Allen is a former Teamster, TDU member, and UPS worker who has spent the past few decades working in logistics. His latest book is The Package King: A Rank and File History of the United Parcel Service.
Flynn Murray is the publishing director of Dissent and a labor activist in New York City.