Special section editor Mike Konczal in conversation with J.W. Mason, Sanjukta Paul, and Deva Woodly.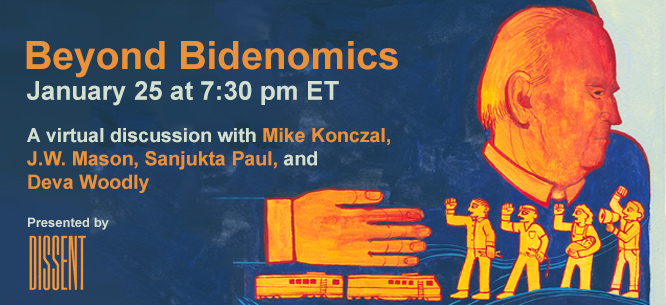 Our Winter 2022 issue, Beyond Bidenomics, is out now. On Tuesday, January 25 at 7:30 p.m. ET, Dissent board member and special section editor Mike Konczal will moderate a discussion with three contributors: economist J.W. Mason, antitrust legal scholar Sanjukta Paul, and political scientist Deva Woodly, author of the new book Reckoning: Black Lives Matter and the Democratic Necessity of Social Movements.
"President Joe Biden impressed many on the left with both the level of his initial ambition and his appointment of progressives to key positions," Mike Konczal writes in his introduction to the section. "Yet a series of institutional challenges and the weaknesses of the Democratic coalition have left a sense of doom hanging over the party and the larger network of left-liberal political actors, writers, and organizers that surround it."
We'll be streaming the launch on Zoom. To watch and submit questions live during the event, RSVP here.