A virtual discussion on postal banking with David Dayen, Courtney "CJ" Jenkins, Melissa Rakestraw, and Flynn Murray.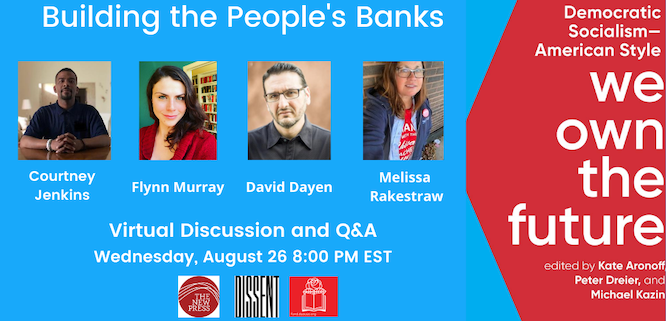 Dissent is partnering with the New Press, the DSA Fund, DSA's Democratic Socialist Labor Commission (DSLC), Save Our Postal Service, Labor Notes, and The American Prospect to bring you a virtual discussion on building the people's banks with David Dayen, Courtney "CJ" Jenkins, Melissa Rakestraw, and Flynn Murray.
This event is part of a series of online discussions based on We Own the Future: Democratic Socialism—American Style, edited by Kate Aronoff, Peter Dreier, and Michael Kazin. In this timely anthology leading socialist thinkers and activists come together to examine the democratic socialist history of the United States and how we might achieve a world where every human being is guaranteed a life of safety, health, dignity, and even joy, free from the commodification of basic necessities.
Please RSVP here in order to attend the event, and to submit questions to our panelists.
---
David Dayen is the executive editor of The American Prospect magazine. He is the author of Chain of Title: How Three Ordinary Americans Uncovered Wall Street's Great Foreclosure Fraud (2016), winner of the Studs and Ida Terkel Prize; and Monopolized: Life in the Age of Corporate Power, released in July. He lives in Los Angeles.
Courtney "CJ" Jenkins is a clerk at the United States Postal Service and Local Officer for the Baltimore Local #181 of the American Postal Workers Union, AFL-CIO.  During his twelve years at the postal service, CJ has worked to help educate and organize his coworkers to realize their true power as working people.
Melissa Rakestraw has been a letter carrier for over twenty years. She is a shop steward with the National Association of Letter Carriers (NALC) and is a socialist organizer. 
Flynn Murray is a writer and labor solidarity activist in New York City. She is involved with the Save the Post Office campaign, and serves as the publishing director of Dissent magazine.