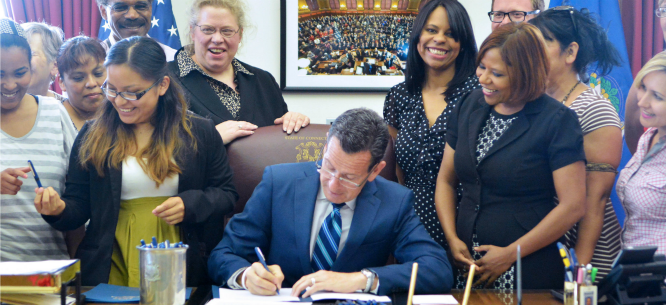 This August domestic workers and organizers are marking the fifth anniversary of the passage of the New York Domestic Workers' Bill of Rights. The bill, which was won by a coalition of groups in the city after a six-year campaign, was the first large victory for an emerging domestic workers' movement. Since the New York bill was signed into law, the National Domestic Workers Alliance (NDWA), now the most visible of the groups behind the campaign, have built on the success, attracting funding and national media attention. They have helped local coalitions win bills in Massachusetts, Hawaii, California, Oregon, and most recently Connecticut, with campaigns still underway in other states. Last year, NDWA executive director Ai-jen Poo was granted the MacArthur "Genius" Grant for her organizing work.
NDWA began as a loose coalition of domestic worker organizations, but over time it has become a more centrally directed structure. As the alliance has grown, leaders have devoted more energy and resources to pursuing legislative bills and high-profile campaigns in partnership with corporations and employers, redirecting the focus of the movement away from activities like member outreach and a critical analysis of the global domestic work industry. Some domestic workers who were part of the original coalition have criticized this shift, claiming that the national alliance is not improving conditions on the job for domestic workers.
Five years after the passage of the first Domestic Workers' Bill of Rights, and with other states following suit, it's worth asking: what have these legislative victories actually achieved for domestic workers so far? And what's next for the movement that secured them?
---
NDWA was formed by a coalition of domestic worker groups at the U.S. Social Forum in Atlanta in 2007. Local organizations wanted to share their experiences and strategize about how to build the movement. One of the local groups that played a key role in the formation of NDWA was Domestic Workers United (DWU) in New York. DWU was founded in 2000 as a collaboration between Ai-jen Poo and Carolyn de Leon from CAAAV's Women Workers Project, and Nahar Alam from Andolan Organizing South Asian Workers. Organizers in each group hoped to reach out beyond their constituency of Asian workers to Caribbean and Latina workers. In the first meetings, they talked about the devaluation of domestic work as women's work performed in the home, and the vulnerability of workers due to their immigration status. They also discussed the unique organizing challenges faced by domestic workers, given the private and individual nature of the workplace—people's homes. Given the structure of the industry, they thought that a legislative strategy might be a way to mobilize workers and win lasting changes.
DWU organizers enlisted a multiethnic coalition of organizations in the city to work on the Bill of Rights campaign, including CAAAV, Andolan, Haitian Women for Haitian Refugees (HWHR), Unity Housecleaners, Damayan Migrant Workers Association, and later Adhikaar for Human Rights.
Over the course of six years, in legal hearings and press conferences, domestic workers recounted detailed narratives of their lives and the abuses that they suffered. They sent written copies of their stories to legislators in Albany. In June 2010, the bill finally passed both houses of the New York State legislature and was signed into law by Governor David Paterson.
Organizers and many of their supporters cheered the bill as a historic victory, but its passage into law had entailed numerous compromises. The final bill of rights signed by Paterson didn't include paid sick days, vacation days, or notice of termination, on the grounds that domestic workers should not be entitled to "special provisions." This argument didn't acknowledge the fact that since domestic workers were excluded from collective bargaining protections established under the New Deal, it would be hard to raise basic standards without further state legislation. Even if domestic workers had the right to unionize, it would be difficult for them to use the current framework for collective bargaining outlined in the National Labor Relations Act. This Act was based on long-term employment at large, individual firms, a reality that has long ceased to describe the conditions for a large number of workers.
In assessing the final bill that was signed into law, legal scholar Terri Nilliasca has written that the gains were mostly symbolic and duplicative of legal rights that were already codified in laws such as the Fair Labor Standards Act (FLSA) and New York law but not enforced. The bill created only a minimal floor of protections for domestic workers; it expanded coverage to those domestic workers who care for the infirm and the elderly under state minimum wage law (most other domestic workers were already covered), expanded overtime pay to live-in workers, and legislated benefits such as an unpaid day of rest each week and three days of paid vacation per year, as well as protection for workers from sexual or racial harassment. While these were important first steps, they were far removed from the campaign's original demands for mandated health care, a minimum wage of $14 per hour, and notice of termination.
Compounding the limitations of the bill were the problems of its enforcement. Soon after the passage of the New York bill, DWU sought to work with the Department of Labor on an enforcement strategy that would help them to track abuses and reach out to workers who suffered wage and other labor violations. They also developed an Ambassadors program to train members in how to do outreach. A Domestic Workers Legal Clinic had helped about sixty domestic workers to resolve their claims against employers, but that clinic has since ceased to have active cases. At that time, DWU was experiencing a series of tensions and conflicts, one of which was the concern by some domestic workers that the non–domestic worker leadership needed to allow more space for leadership by workers. There was little follow-through on these initial attempts at enforcement.
Despite these problems, the New York bill of rights campaign was held up by NDWA as a model for other campaigns and for low-wage and immigrant organizing in general. In 2013 NDWA produced a handbook for how other states could design their own bill of rights. The guide promotes the same low floor of protections established in New York. It does not include a minimum hourly wage or health insurance, both of which were put forth in the first campaign.
In Massachusetts, local groups affiliated with NDWA decided to go beyond the handbook's suggestions and ask for more. Their bill, signed into law in 2014, included more than any other state had won, such as "the right of privacy"—which prevents employers from monitoring domestic workers' calls or taking their documents—as well as the same maternity leave benefits available to other employees in the state. Live-in domestic workers were entitled to two weeks' severance pay if their employment was terminated without cause, advance notice of termination, and fair charges for food and lodging.
---
In recent years, NDWA has directed most of its energy and resources toward establishing alliances with legislators, formal-sector unions, and employers at the expense of reaching out to domestic workers. In 2010 NDWA helped to found Hand in Hand, an organization that focuses on teaching employers about the Fair Care Pledge, which suggests guidelines for pay, time off, and work agreements for domestic workers. In 2014 the alliance began acting directly as a labor broker, providing families access to the labor of primarily immigrant women. They started a nanny referral business called Care Tango, with its own CEO, marketed as a "boutique, personalized service." They initiated a business partnership with one of the largest nanny referral services, Care.com,which also uses the model of the Fair Care Pledge to encourage individual employers to treat their workers decently.
NDWA's focus on legislation and, increasingly, on collaborations with employers is more aligned with the goals of the foundations who give large grants to NDWA than the needs of domestic workers. While NDWA has made efforts to promote domestic worker leadership, the direction of the national alliance is being determined less by these workers than by the alliance's middle-class leaders and by its benefactors. Foundations set goals that must be met in return for funding, and they prioritize legislative advocacy over grassroots base-building and mobilization.
Domestic worker leaders, mostly long-time members of DWU who were involved in the bill of rights campaign, say that the path being pursued by NDWA has not produced concrete changes for workers on the ground. Meanwhile, many worker leaders have continued doing grassroots organizing work independently of the larger alliance. These leaders have a vision for DWU as a worker-led organization, focused on member outreach, direct action tactics, and relying on volunteer labor and fundraising through local community events and contributions rather than large foundation grants. DWU members have the model of worker centers like the Laundry Workers Center, whose worker leaders determine how campaigns are run, and the New York Taxi Workers Alliance (NYTWA), which sustains itself through a dues-paying membership, and has won important, tangible victories for taxi drivers through coordinated mass strikes. DWU has been supported by a range of local organizations such as HWHR, who continue to carry on their work in the outer boroughs and in the working-class immigrant enclaves of the city.
The more highly visible, national alliance of domestic workers has the ear of legislators, funders, unions, and academic institutions, but their achievements are limited by their pursuit of legislative bills that have become an end in themselves, a blueprint to be replicated rather than a launching pad for deeper change. Grassroots organizations—some of whom work together with this national structure and others such as DWU who work outside of it—are focusing on building power on the ground through member outreach, training workers to become leaders, and advancing other strategies like the local collective bargaining units to pressure employers to improve wages and conditions. Winning more bill of rights campaigns won't have an impact for workers unless there are vibrant and mobilized organizations that can educate workers about their newly won rights and find a way to enforce them. As workers and their supporters celebrate recent victories and the anniversary of the first bill's passage, it's important not to forget the kind of work that is left to be done.
---
Sujatha Fernandes is an Associate Professor of Sociology at Queens College and the Graduate Center, City University of New York. She is currently completing a book about storytelling and social movements, which includes the case of the domestic worker movement.