After a plea from Governor Whitmer, nursing home workers will suspend a planned strike for thirty days while negotiations continue. The drive for collective action comes after months of stress and anguish.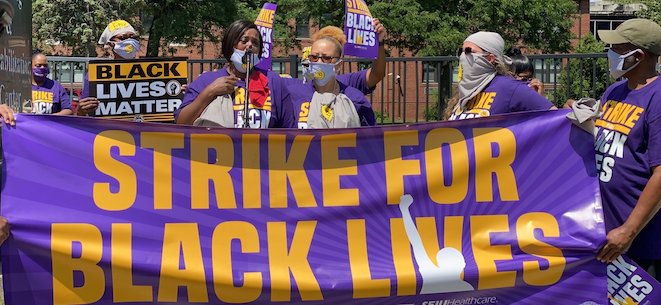 Detroit's nursing homes have been engulfed by the pandemic. Since March, nursing assistants and other frontline staff have witnessed a spate of deaths of staff and residents in long-term care, often in facilities that have been cited in the past for major safety violations. This week, they almost went on strike. 
The workers at about sixteen long-term care facilities in the Detroit Metro area planned to strike to demand better safety conditions, decent wages, and an end to what their union calls a pattern of profiteering and neglect. The estimated 1,600 workers were targeting the for-profit chains that run the vast majority of their nursing homes: Villa Healthcare, Ciena Healthcare, and Charles Dunn. But the union agreed to delay the strike after Governor Gretchen Whitmer sent letters to union leaders and the nursing home owners urging them to negotiate a resolution to the dispute. Additionally, a judge issued a temporary restraining order to Ciena Healthcare workers, directing them to halt the strike.
The Service Employees International Union (SEIU), which represents nursing assistants, laundry workers, and other staff, will now suspend the strike for thirty days while negotiations for a fair contract continue. The drive for collective action came after months of stress and anguish.
Monique Shields, who works at Villa at Great Lakes Crossing, recalled, "It's really been hard these last couple of months, because . . . the pandemic came and it changed the entire world. No one was prepared for what we're dealing with." 
The workers found themselves standing in for loved ones in residents' final moments.
"You know they're going to die; you can see it in their face," Shields said. "Then they have to die alone, no loved ones, no family—just us. . . . But we're not the people that they want to be here. These last couple of months have been really, really emotionally devastating."
Although the death rate in long-term care facilities is now past its peak, Shields added,
I still feel like I'm in danger, because we still have COVID [positive] residents in the building. . . . At work, you can't stay six feet away. . . . This is your job. You can't tell your company, "Oh, well, they have COVID, I'm not going to deal with them." You can't do that, because at the end of the day, it's not their fault that they have it."
The frontline nursing home workers, she added, "never got recognized" as much as other healthcare workers.
It was always the doctors and the nurses in the hospitals, what about the [staff] in these nursing homes every day taking care of someone else's loved one, and making them your loved one? [You have] to go to work every day and see a resident that you have been taking care of for years, all of a sudden get sick, and then they die.
The sense of being unappreciated reflects the inequities ingrained in the workforce, which is composed primarily of low-income Black women. The disproportionate risks they take on prompted many Detroit nursing home staff to join the Strike for Black Lives protests in July. 
Another top issue for the workers is understaffing. While many residents have complex medical needs, nursing homes are largely staffed by nursing assistants who shoulder huge workloads and can be overwhelmed by a major emergency like a coronavirus outbreak. 
"When we work short, I'll have fourteen to fifteen residents," Shields said; there is no way she can manage such an intense workload without the level of care suffering. "I'm going to do my job, I'm going to make sure you're safe. . . . But at the end of the day, when you put that much workload on one person, there's no way that person could give fifteen people the personal, individual care that they actually need. We do the best that we can, but we are only one person."
According to SEIU, Villa Healthcare's nursing homes in Michigan "received thirty federal penalties and almost $600,000 in fines over the last three years."
Villa did not immediately return a request for comment. But in a statement sent in mid-August ahead of the planned strike, Ciena Healthcare claimed the "safety and well-being of the residents and staff . . . are of the utmost importance," and warned that if workers went on strike, "vulnerable nursing home residents, who are already isolated from their families and other potential caregivers due to the pandemic [would be] at even greater risk of physical harm."
But Shields said the way to protect both staff and residents is to compel her employer finally to listen.
"We're trying to communicate with you," she said.
We're trying to come to some common ground with you. If you're not willing to come to a common ground with us, who is actually hurting the resident? The owner, or the worker? . . . This is a company that you built. So if you're not taking care of your workers, how do you expect your workers to keep taking care of your residents? Do right by your staff. And your staff will be in there doing right by you.
---
Michelle Chen is a member of Dissent's editorial board and co-host of its Belabored podcast.