A preview of our next issue.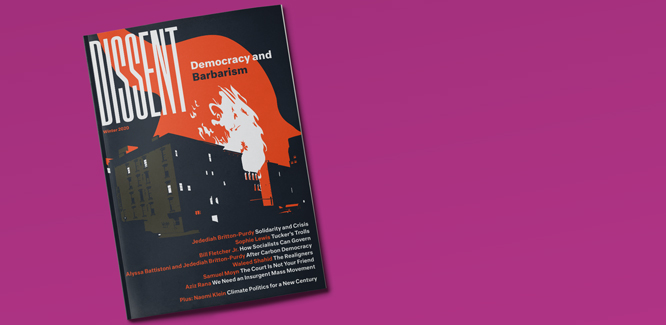 Next month we're releasing our winter issue, featuring a special section—Democracy and Barbarism—edited by Jedediah Britton-Purdy. Subscribe now to get a year of Dissent at 25 percent off. From the introduction:
When Rosa Luxemburg defined the options for the future as socialism or barbarism, she was envisioning war, imperialism, and some combination of social collapse and unrelenting exploitation—early feudalism with modern weaponry. That bleak disjunctive prophecy feels apt for a world in which the prospect of unprecedented mass migrations is arising alongside politicized racism, and the imperative of growth is further tightening the ecological bottleneck everywhere.

Here is a definition of barbarism: a system that makes people into one another's enemies, victims, and oppressors. . . . A second definition of barbarism: a system that keeps its people in the dark and gives them no way out. A system, that is, that makes the world as it is both inescapable and unintelligible. . . . Democracy should be a political rejection of barbarism in both aspects. It is an order premised on the equality of everyone who lives in it and the embrace of a shared fate. It is the way—the only one we have—for people to choose the terms of their shared lives, the shape of their mutual vulnerability and entanglement.
In the section: Sophie Lewis writes about her experience with Tucker Carlson's hate mob; Bill Fletcher Jr. sketches out the opportunities and obstacles that elected leftists can expect after assuming positions of power; Alyssa Battistoni (along with Britton-Purdy) move through the knotty issues that climate change presents to small-d democrats; Waleed Shahid, communications director of Justice Democrats and former senior aide to Alexandria Ocasio-Cortez, talks about realignment in the Democratic Party; Samuel Moyn argues against the power of the courts; and Aziz Rana explores the sort of insurgent, democratic mass movement that could extend freedom and equality to the exploited and marginalized.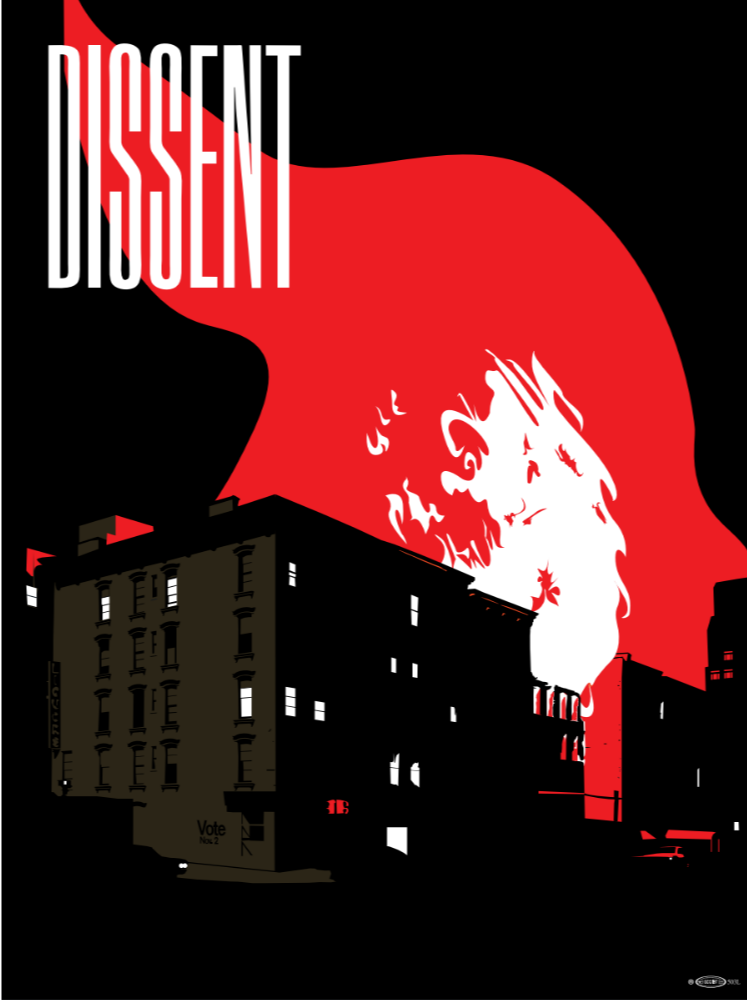 Elsewhere in the issue, you'll find: Naomi Klein on politics in the age of climate change (read it here today), Sara Marcus on the music of Big Thief, Quinn Slobodian on the rule of economists, Ann Snitow on her experiences with the Eastern European feminist movement, Daniel Luban on the post-liberals of the right, Jamelle Bouie on Confederate statues in Charlottesville, and a lot more.
Click here to subscribe to get the issue in the new year, along with the rest of our 2020 issues, for 25 percent off. If you are already a subscriber, you can purchase a gift subscription or become a solidarity subscriber to provide the support we need to sustain Dissent. You can also support us by donating to our crowdfunding campaign, where we're giving away perks like a poster of the next cover of Dissent.