In the face of a far-reaching austerity package being imposed by an unelected government, more than 1 million Brazilian workers took the streets Friday for the country's first general strike in decades.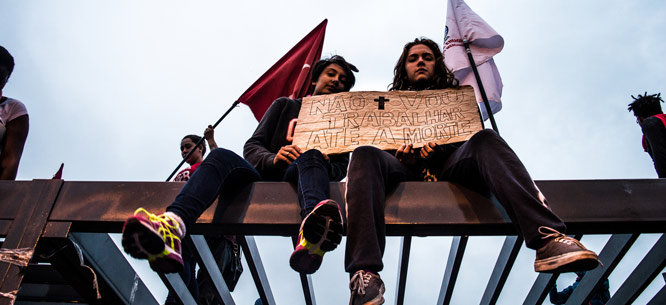 As darkness fell in Rio de Janeiro's historic center on Friday evening, the smell of tear gas hung heavy. It had been a day of mass mobilization across the country: more than a million Brazilians in at least 254 cities participated in a day-long general strike on Friday, according to organizers; more are taking to the streets today for May Day, a national holiday here. The strike, said to be the biggest in decades, was meant to rally opposition to an aggressive pension reform plan that would weaken labor laws and raise the retirement age by a decade—the centerpiece of an array of austerity measures put forth by President Michel Temer, whose approval rating sits at a dismal 4 percent.
The strike, organized by Brazil's biggest unions, had perhaps the greatest impact in industrial capital São Paulo, where protesters were able to march through the city for hours; buses and services were shut down in Brazil's other major metropolises. The hashtag #BrazilEmGreve (Brazil On Strike) had a wider reach on social media than the massive protests that led to Rousseff's impeachment.
Brazilians have good reason to be angry. The country is in the grip of a years-long recession that has cast millions of people out of work; meanwhile, a long-running corruption investigation has revealed that every major political party received bribes from most of the country's largest businesses in exchange for lucrative government contracts. The unelected, right-wing government of Michel Temer, who nominally came to power on the wings of an anti-corruption movement against the Workers' Party (PT)—which governed from 2003 until last July—is revealing itself to be at least as corrupt as its predecessor. One-third of Temer's cabinet ministers, and nearly every congressional leader, are currently under investigation on corruption charges; Temer himself has been accused of soliciting a $40 million bribe, though presidential immunity shields him from sanction for now.
At the center of Temer's plan to reassure investors is a far-reaching austerity package. Temer is hardly alone among Brazil's elites in hoping that drastic public-sector cuts will turn on the spigot of foreign capital, which has largely fled Brazil following a worldwide slump in commodities prices. When she was still in power, the PT's Dilma Rousseff herself cast pension reform as a necessary, if painful, measure to fixing Brazil's economic woes. But Temer has been far more aggressive, much to the markets' approval: since Temer and his allies ousted Rousseff in a parliamentary coup last year, the Brazilian stock market has surged to pre-recession levels.
The government's tired austerity formula conveniently downplays other possible areas for reform, like Brazil's notoriously complex tax system, which imposes a regressive burden on working-class and middle-class Brazilians through a combination of high consumption taxes and low capital-gains and wealth taxes. Worse, Temer's unpopularity and unelectability (he is barred from running for office in 2018) has inspired a particularly cynical line of thinking in technocratic circles and his own government. If anyone is going to force a broadly unpopular measure through a corrupt, self-enriching congress, the thinking goes, it might as well be an unpopular leader who has no chance of ever being elected anyway.
Scenes from São Paulo (left, right) and Rio de Janeiro (center), Friday, April 28 (
Mídia Ninja / Flickr
)
Indeed, Temer's government is making little effort to sugarcoat the reforms. Instead, it targeted Friday's strike with heavy police repression. On Friday evening in Rio, Jandira Feghali, an opposition congresswoman, was minutes into a speech denouncing Temer's reform package when tear gas grenades started falling onto the crowd. "It was madness," said Thiago Tadeu, a journalist who watched the ensuing mayhem unfold from the stage where Feghali was speaking. "They fired on all sides, surrounded the crowd."
Luciana Zanatte, an unemployed teacher, gathered with a few friends in the entrance of a nearby metro station, hoping to join the protests as they continued into the night. But rounds of tear-gas canisters and percussion grenades had already broken up the nascent march. Zanatte's friends passed around cell-phone photos of burning buses a few blocks away—at least nine were torched by protesters in the confrontations—and rubbed milk of magnesia on their eyes as they bitterly denounced Temer's government. A crowd gathered nearby had scattered after police rode through on motorcycles, firing tear gas grenades and waving long batons. But Zanatte said they remained defiant.
"People watching TV tonight will hear that these protests are being organized as a campaign strategy for the PT, but that's crazy," Zanatte said. "This isn't the movement of a political party. We're here because we disagree with the government."
---
Lucas Iberico Lozada is a writer and translator currently based in Rio de Janeiro.