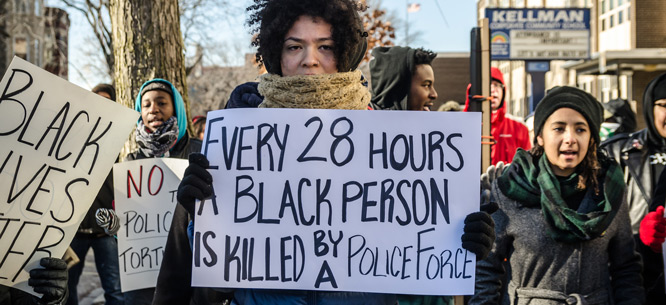 The Martin Luther King, Jr. holiday is one of the few in the United States that invites us to strike a reflective pose. Each year communities volunteer in massive service projects, children don their Sunday best and memorize great works of oratory, and we have conversations about the enduring legacy of slavery and segregation. This year feels a little different. Following the protests that erupted across the country after Michael Brown was fatally shot by a police officer in Ferguson last August, today activists—in Missouri, New York, Ohio, California, Illinois—will be on the streets. By calling on us to reclaim MLK, protesters are not only celebrating King's enduring frameworks, but expanding how we understand what a movement is and does for the body politic.
Last week, I moderated an online conversation with representatives of social movements—all of them undoubtedly students of King who are learning from the momentum and missteps of the past—and asked them to share their vision for change.
Marcia Chatelain is a professor of history at Georgetown University, and the creator of the #FergusonSyllabus.
Alicia Garza is co-founder of #BlackLivesMatter and Special Projects Director for the National Domestic Workers Alliance.
Dante Barry is digital organizer with Center for Media Justice & director of Million Hoodies Movement for Justice.
Darsheel Kaur is a community organizer with the Ohio Student Association in Dayton, Ohio.
Marcia Chatelain: I find myself in a lot of conversations with people of various generations and experience in organizing and there has been a tendency to suggest that there is no movement established right now. Do you ever hear that and what do you think?
Alicia Garza: What's happening right now is that a movement is growing. We are building relationships and connections, exercising new forms of leadership, new tactics, and learning lessons from our elders—people like Bayard Rustin, Diane Nash, Linda Burnham, Assata Shakur and Angela Davis—who have been part of social movements before us.
Dante Barry: This movement is still in its infancy. We're just beginning. Many people are attempting to rush this movement because they don't want to see it become successful. However, the die-ins, the shut it downs, the bridge takeovers, those actions provide a heartbeat. They demonstrate the energy of this movement, and the constant pain black people are feeling. This movement is about transforming power structures.
MC: Historically speaking, I think the strength of what all of you are doing rests in your commitment to intersectionality. What does intersectional organizing mean to you?
Darsheel Kaur: Intersectional organizing means creating spaces where we can bring all of our identities into the space. Within the Ohio Students Association, that starts in our internal organization meetings, and spreads to our broader community meetings. It all starts with personal relationships. When we are getting to know each other deeper than planning for an event, or researching an issue, we begin to develop trust and learn more about the people who we are working with, people with different cultural identities, national identities, gender identities, socioeconomic backgrounds, different levels of physical ability, and more. We're here for the liberation of all of us. Through the trust-building process, diverse leadership can emerge, widening our political and social understandings of the world.
AG: For us, intersectionality is about how we live our lives. So few of us live in a world where we fit in these narrow boxes. For Black Lives Matter, we talk about our work as fighting for all black lives—not just black men, though we fight like hell for those lives too. But when we say black lives matter, we mean black queer lives, black trans lives, black disabled lives, black poor lives, black incarcerated lives, black women's lives—all black lives. We can't get free without it. In my work with the National Domestic Workers Alliance, we work to build power with women of color, immigrant women, poor women. We live our lives at the intersections.
MC: Where do you think you learned these principles?
AG: We learned by making mistakes and from our elders who are brave enough to share with us all that they've learned. I think it's about having courageous conversations about the world we want to build and how we think we can get there, and calling people out when we see things that are problematic.
MC: I like to believe that educators have played a part in preparing young activists to do this amazing thing that is happening right now, but I may be foolish to believe this. What role have teachers and teaching played in influencing your strategy or setting an example of what NOT to do?
DB: I think educators, in a very broad sense, are very critical to the development of this movement. Political education is needed to help activists understand the roots of the problem. Right now, this movement has activated thousands of activists who may need training and extra capacity to expand their political analysis and understanding of the issues. For me, books written by Michelle Alexander, bell hooks, James Baldwin, Malcolm X, and Huey Newton, have provided critical perspectives on this movement.
AG: I've had some amazing teachers who really worked to cultivate my assessment and my practice. And there are so many books and resources that have been useful: SOUL Summer School (The School of Unity and Liberation), A Taste of Power by Elaine Brown, There is A River: The Black Struggle for Freedom in America by Vincent Harding, Black Reconstruction in the United States by W.E.B. DuBois, and the documentary series Eyes on the Prize.
MC: What kinds of things are you teaching the communities you work with? For me, it's all about history—good and bad. What do you think is key in the teaching for change?
AG: Yes, history, but in the political sense. So much of what we learn about movements and social change is presented through a certain lens. I have this favorite saying—until the lion has its own historian, tales of the hunt will always glorify the hunter. We were forced to become our own historians—and we're so glad we did. We experienced this dynamic early on which pushed us to write about our vision, our politics, our frame, and our intentions. Right now, we have a website (thanks to Janisha Gabriel and Ahmad Greene) which has some of our writing and analysis archived, such as the Herstory I wrote recently about the #BlackLivesMatter hashtag.
DK: History is not something static—we are a part of it right now. We can better understand what we're dealing with now by understanding the past.
MC: In thinking about history and change and the stories that get included and excluded, I think of the film Selma. There has been a lot of talk about what the film can and can't do. When filmmakers write the story of this moment and all of you are characters, what do you want to make sure they don't leave out for future generations to understand about what this moment means?
AG: I wouldn't want a neatly tied up story in a bow. I would want people to see very clearly that it's work. And that it wasn't perfect. And that we made mistakes. I would also want people to see exactly what we were up against.
DK: It's more than just police brutality. It's about systems in place that continue to devalue the lives of black and brown people in different aspects including the prison industrial complex, economic and food systems, the housing market, voting rights. The energy that came together as this movement is a collective energy that has been building up through frustration about these many issues. It all comes down to the value of human life and what we're willing to put on the line to fight for it.
AG: I agree. State violence is much bigger than police violence, though police enforce the needs of the state.
DB: We need to also have a more expansive definition of what state violence is and how it is impacting black folks. In terms of a vision for a movie, I would want folks to understand that we are all human. We're nuanced. We're complicated. We're complex. It's beautiful. But I also want folks to come away with understanding the severe bravery, courage, and almost fearlessness for doing the work and getting dirty.
MC: And how would the film end?
AG: It would be triumphant. We would be still working. This is a life long process.
MC: How have you leveraged existing social media networks and processes to organize?
DB: Our organization, Million Hoodies, was founded in large part due to the failure of the media to adequately report on the murder of Trayvon Martin in 2012. It took a full month before it became national news. Local media didn't want to report it, and context around the details concerning Trayvon's death weren't highlighted. Million Hoodies used social media to mobilize, amplify, and empower folks to take action And we continue to use social media to bring attention to the police and vigilante violence cases that happen every twenty-eight hours. After Renisha McBride was murdered, we immediately created a Justice for Renisha McBride page to amplify the information about the case, the potential criminalization of her life and body, and context around her murder. We still use the page to uplift the stories of other Black women and girls who are impacted by various forms of violence. We recognize that we were founded in response to the murder of a black boy and that many of our black sisters and trans folk often get left out when it comes to how their stories are amplified.
AG: The other thing I think is important to lift up here is that social media allows access to some of our family, who can't be in the streets, to still participate in the movement, such as folks with disabilities, incarcerated peoples, those with illnesses, etc.
MC: Your answer raises the idea of being in the streets. How has the physical act of being in protest, dying-in, perhaps being jailed connected you with your activist work?
AG: A group of us were arrested on Black Friday for chaining ourselves to a BART train in Oakland. Being arrested for the first time politicized me in ways I didn't realize. You see exactly how sick this system is that could put 1 million of our people behind those walls.
MC: What can the audience reading this conversation be, say, do, or become to support this movement?
DK: Anyone who wants to keep up with what we're doing in Ohio, should look at our Facebook page, where we post news and events.
DB: We just launched a national campaign focused on militarized policing, and the impacts of the wars on drugs on Black and Arab communities. Any high school or college student interested in our work should visit our website: mhoodies.org.
AG: There are lots of ways that people can get involved: 1) have a conversation with your friends and family about what #BlackLivesMatter means to you 2) join a local chapter of BLM or start your own—we currently have twenty-six chapters developing across the country, in Canada and in Ghana 3) Wage black love—work to build and sustain community and relationships across difference.  Take the time to learn more about those of us who exist on the margins—women, queer people, trans people, disabled and differently abled. Bridging the divides are critical to the future of our movement.
MC: Recently, a few high profile people suggested that movements "need a leader," but from where I stand we have a number of them, and if you are indications, they are fantastic. 
AG: Yes! The movement is leader full.
DB: I am also excited about this group-leadership model. I'm excited by the energy of the folks I'm meeting in the streets who are taking action.