A preview of our next issue.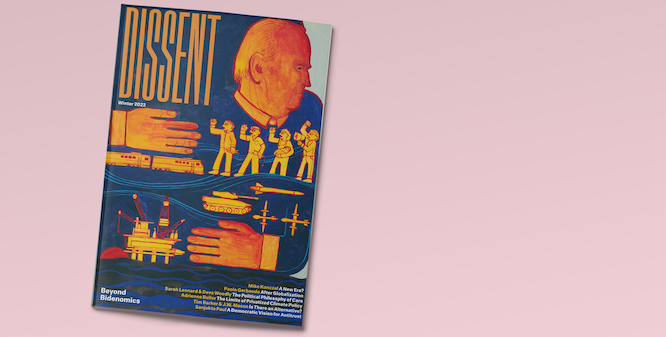 Our Winter 2022 issue, out January 10, features a special section on the political economy and policy landscape of the Biden era guest-edited by Mike Konczal. "The work of the left at this moment is to try to understand what new spaces have opened up, despite the serious obstacles, and how to build upon them," Konczal writes in his introduction. "This Dissent section gathers writers trying to make sense of this moment on those terms. Each author tackles a different political sphere, yet they all address the same fundamental question: Does the Biden administration represent new political energies that offer an alternative to neoliberalism? Or are current reform efforts set to fail, burn out, or be absorbed in the old political regime?"
Subscribe now to get your copy at a 25 percent discount.
In the section, you'll find: Paolo Gerbaudo on politics after globalization; Deva Woodly and Sarah Leonard on the philosophy of care; Adrienne Buller on the limits of privatized climate policy; Tim Barker and J.W. Mason on macroeconomics under Biden; and Sanjukta Paul on the democratic vision of antitrust reform.
Also in the issue: Sophie Lewis on Sex Education; Hannah Zeavin on the feminization of therapy; Stephanie DeGooyer and Srinivas Murthy on health nationalism; Marcelo Casals on the struggle for a new constitution in Chile; Melinda Cooper on Trump and the small business insurrection; Michael Walzer on asymmetric war and its journalists; Steve Fraser on woke capital; and Tiana Reid on the Combahee River Collective.
And in the book review section: Sarah Jaffe on Sally Rooney; Lyle Jeremy Rubin on Spencer Ackerman's Reign of Terror; Kevin Lozano on Jonathan Franzen; and Katha Pollitt on Amia Srinivasan's The Right to Sex.
Click here to subscribe at a 25 percent discount. If you already subscribe, please consider donating, purchasing a gift subscription, or becoming a solidarity subscriber to help sustain Dissent.