Jo Grady, general secretary of the University and College Union in the United Kingdom, talks about the prospects for a truly feminist labor movement.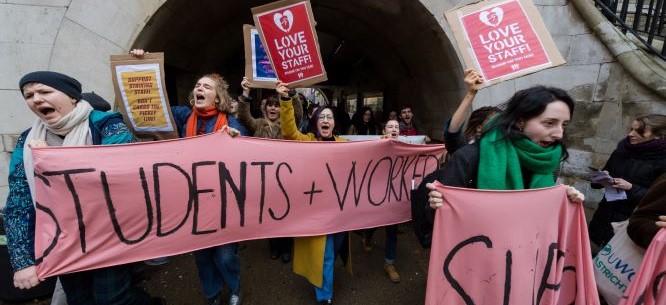 Subscribe to the Belabored RSS feed here. Support the podcast on Patreon. Subscribe and rate on iTunes, Stitcher, and Spotify. Tweet at @DissentMag with #Belabored to share your thoughts, or join the conversation on Facebook. Check out the full archive here. Belabored is produced by Colin Kinniburgh.
Some of the most exciting social justice and labor struggles unfolding around the world today are being helmed by women workers—garment workers fueling a general strike in Myanmar; teachers and nurses leading mass movements for just education and healthcare systems; domestic workers leading a charge to have their labor recognized as "real work." So why does it often seem like the institutions of the mainstream labor movement have been built by and for men? We talk to Jo Grady, general secretary of the University and College Union in the United Kingdom, about the prospects for a truly feminist labor movement, building intersectional and internationalist labor solidarity, and why organized labor would look very different if women labor leaders "were to design new trade unions from scratch." We also look at how education unions across the pond have been dealing with the pandemic and challenging the UK government's aggressive push to reopen schools and campuses.
In other news, we look at taxi workers demanding financial relief (with Mohamadou Aliyu), the myths about what the PRO Act means for freelancers (with Brandon Magner), Columbia graduate workers striking again (with Ludda Ludwig), and Massachusetts nurses on the picket line. With recommended reading on anti-Asian violence and gendered work, and class war at the opera.
Join us on April 5 for a live recording of a special episode on the organizing drive at an Amazon warehouse in Bessemer, Alabama, with Steven Pitts of the Black Work Talk podcast.
We are now on Patreon! You can sign up to support us with a monthly contribution, at the level that best suits you.
If you're interested in advertising on the show, please email ads@dissentmagazine.org. And as always, if you have any questions, comments, or tips, email us at belabored@dissentmagazine.org
News
How Covid exacerbated NYC taxi drivers' long-standing debt from inflated fees (NBC News)
The PRO Act and the ABC Test (The Authors Guild)
No, The PRO Act Wouldn't "Kill" Freelancing (Labor Law Lite)
In focus: Columbia graduate students picket on the first day of strike (Columbia Spectator)
St. Vincent's strike heads into second week (Boston Globe)
Sarah, First, Nurses Saved Our Lives—Now They're Saving Our Health Care (The Nation)
Conversation
UCU general secretary, Jo Grady (@DrJoGrady) 
Jo Grady: Towards a Feminist Trade Union Movement (Tribune)
Joint union statement: We demand safety. We demand justice. We demand equality. 
Argh, I wish I'd written that!
Michelle: Kenzo Shibata, Anti-Asian, Anti-sex work hate crimes don't get a congressional hearing (Kenzo's Newsletter)
Sarah: David Dayen, How the Met Opera Is Squeezing Its Workers (The American Prospect)