Organizers of unionization efforts at Amazon, Starbucks, and the New York Times discuss how their experiences as women shape their work.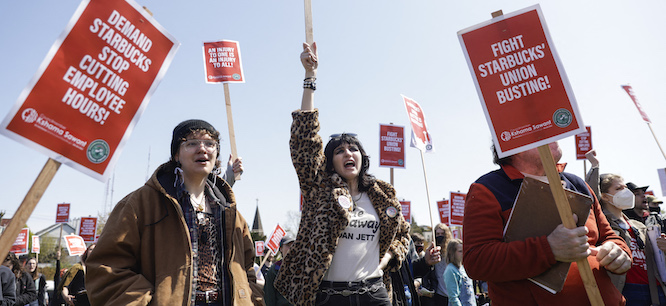 Subscribe to the Belabored RSS feed here. Support the podcast on Patreon. Subscribe and rate on iTunes, Stitcher, and Spotify. Tweet at @DissentMag with #Belabored to share your thoughts, or join the conversation on Facebook. Check out the full archive here. Belabored is produced by Colin Kinniburgh.
One of the upshots of the turmoil of the last two years is that the chaos and dangers of working during the pandemic have spurred people to take action to protect their rights at work and to organize their fellow workers. In recent months we've seen a rising tide of union drives, many of them clustered in industries that have historically been quite successful at keeping unions out, like food, retail, and logistics.
In this episode, Belabored presents a panel discussion with some of the women who are at the helm of this movement, to talk about how their experiences as women have shaped their perspective as workers and organizers. We'll hear from Nozlee Samadzadeh of the New York Times Tech Guild, Maddie VanHook, worker-organizer with Starbucks Workers United, and Jennifer Bates, worker-organizer at Amazon's BHM1 fulfillment center in Bessemer, Alabama. The panel was sponsored by The Century Foundation and WILL Empower, a joint initiative of Georgetown University's Kalmanovitz Initiative for Labor and the Working Poor and Rutgers University's Center for Innovation in Worker Organization.
In other news, we check in with child-care workers organizing for better pay, revisit inflation with J.W. Mason, and examine the impact of Long COVID and abortion rights for workers in a post-Roe world. With recommended reading on the exploitation of formerly incarcerated workers and a clash between police and delivery couriers in the UK.
Thank you for listening to our 247th episode! If you like the show, you can support us on Patreon with a monthly contribution, at the level that best suits you.
If you're interested in advertising on the show, please email ads@dissentmagazine.org. And as always, if you have any questions, comments, or tips, email us at belabored@dissentmagazine.org

News
Ximena Conde, More than 20 Philly child-care centers go on strike, Philadelphia Inquirer
A Day Without Child Care, Community Change Action
Jenny Gross, 'Another Unequal Burden': Working With Long Covid, New York Times
Long Covid Impact on American Adults, Solve Long Covid Initiative
Jeff Cox, Powell says the Fed will not hesitate to keep raising rates until inflation comes down, CNBC
Dominic Rushe, Federal Reserve announces biggest interest rate hike since 2000, Guardian
Abortion rights are economic rights: Overturning Roe v. Wade would be an economic catastrophe for millions of women, Economic Policy Institute
Emma Goldberg, How Roe Shaped the World of Work for Women, New York Times
Sarah Jaffe, Why Harris and Hobby Lobby Spell Disaster for Working Women, In These Times
Silent no more: overworked tugboat workers are reaching breaking point, International Transport Workers' Federation
Conversation
Women Leading the Labor Movement Surge
Jennifer Bates, worker-organizer and leader of the BAmazonUnion (RWDSU) organizing effort
Nozlee Samadzadeh, New York Times software engineer and New York Times Tech Guild organizing committee member
Maddie VanHook, Starbucks shift supervisor and leader with Starbucks Workers United
Michelle Chen, Workers Fight for Their Lives, In These Times
Jordan Zakarin, NLRB Files National Lawsuit Against Starbucks Over Anti-Worker Rules, More Perfect Union
Sarah Jaffe and Michelle Chen, Belabored: Black Against Amazon, with Steven Pitts and Robin D.G. Kelley, Dissent
Argh, I wish I'd written that!
Michelle: Katie Jane Fernelius, How the Construction Industry Preys on Workers Newly Released From Prison, In These Times
Sarah: Rivkah Brown, Couriers Stunt Dalston's Gentrification. The Police and Council Want Them Gone, Novara Media