Long COVID is a labor rights issue.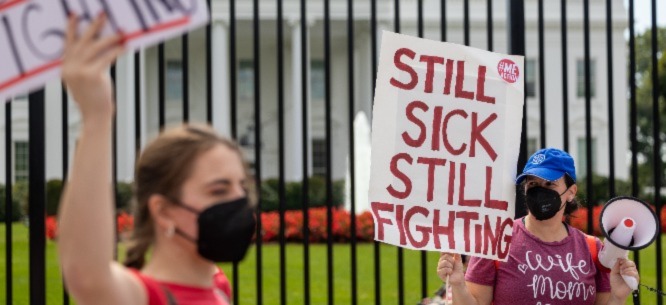 Subscribe to the Belabored RSS feed here. Support the podcast on Patreon. Subscribe and rate on iTunes, Stitcher, and Spotify. Tweet at @DissentMag with #Belabored to share your thoughts, or join the conversation on Facebook. Check out the full archive here. Belabored is produced by Colin Kinniburgh.
You may not see many signs in everyday life that the pandemic is still ongoing these days; mask mandates have been removed, social gatherings have resumed, and employers are pushing workers to return to in-person work. But for several million people across the United States, the pandemic is still assaulting their bodies and minds—with chronic pain, respiratory problems, cognitive issues, fatigue, and other hard-to-treat symptoms. For more than two years, people living with "long COVID," or "longhaulers," have largely had to struggle on their own to access medical treatment, disability benefits, and workplace accommodations, and have often faced discrimination and disbelief when trying to advocate for their rights as patients and workers.
While there is still much scientists do not understand about the illness, long COVID is profoundly changing the way people work, often intersecting with other forms of discrimination, income inequality, and systemic barriers to healthcare and leave time. We spoke with Rebecca L. Jacobs, Director of Community Support for the COVID-19 Longhauler Advocacy Project, and Kimberly Knackstedt, Co-Director of the Disability Economic Justice Collaborative at The Century Foundation, about long COVID as an issue of labor rights and disability justice, and how our systems of worker protection and disability support need to change.
In other news, we look at a win for British Telecom workers, Congress blocking railroad workers from striking and denying them sick days, and New School and University of California academic workers and Twitter janitors on strike.
To wrap up our in-depth series on the ongoing pandemic's effect on workers, we're going to be doing a special end-of-year live show on December 15, 7 p.m. (EST). We'll be joined by two rank-and-file leaders in nursing and public school teaching: Elizabeth Lalasz and Jia Lee. Register here.
Thank you for listening to our 261st episode! If you like the show, you can support us on Patreon with a monthly contribution, at the level that best suits you.
If you're interested in advertising on the show, please email ads@dissentmagazine.org. And as always, if you have any questions, comments, or tips, email us at belabored@dissentmagazine.org

News
Katy Stech Ferek and Esther Fung, Senate Votes 80-15 to Pass Bill Blocking Nationwide Railroad Strike, Wall Street Journal
Ross Grooters and Jonah Furman, Railroad Engineer on the Imposed Contract: "It Really Fell Short of Railroad Workers' Needs," Jacobin
Dani Anguiano, Closed labs, cancelled classes: inside the largest strike to hit US higher education, The Guardian
Claudia Irizarry Aponte, The New School and Part-Time Faculty Go Into Mediation as Strike Enters Third Week, The City
Miles Hamberg, The New School Staff Are Still Striking for a Fair Deal, The Progressive
Ryan Mancini, Twitter lays off janitors on strike weeks before Christmas holiday, MassLive
Sergio Quintana, Janitors Locked Out of Twitter Headquarters Without Warning, Join Picket Line, NBC Bay Area
'Bank the money and our collective strength,' BT Group members urged, as ballot begins on company's 'final' pay offer, Communication Workers Union
Mark Sweney, BT awards tens of thousands of staff £1,500 as strikes end, The Guardian

Conversation
Rebecca L. Jacobs, Director of Community Support for the COVID-19 Longhauler Advocacy Project
Kimberly Knackstedt, Co-Director of the Disability Economic Justice Collaborative at the Century Foundation
Kimberly Knackstedt, Why the COVID-19 Pandemic Isn't Over, The Century Foundation
Patient-Led Research Collaborative
Ryan Prior, Rebecca Vallas, and Kimberly Knackstedt, The Long Haul: Q&A About Long COVID and the Future of Disability Policy, The Century Foundation
Natalie Shure, We Might Have Long Covid All Wrong, The New Republic

Thanks to the Ford Foundation of Social Justice for sponsoring this series.