As hopes for ambitious climate policy fade, Joe Uehlein, Founding President of the Labor Network for Sustainability, talks about why we must decarbonize the economy while protecting workers.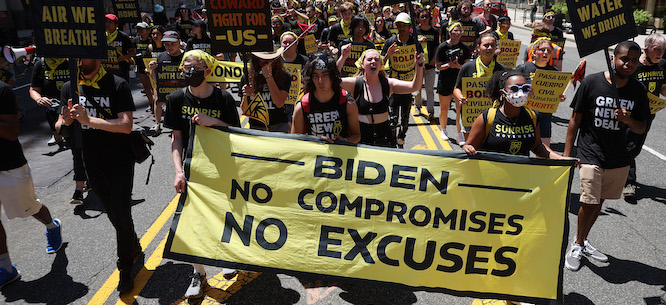 Subscribe to the Belabored RSS feed here. Support the podcast on Patreon. Subscribe and rate on iTunes, Stitcher, and Spotify. Tweet at @DissentMag with #Belabored to share your thoughts, or join the conversation on Facebook. Check out the full archive here. Belabored is produced by Colin Kinniburgh.
Joe Biden campaigned for the presidency with promises of dealing comprehensively with climate change and expanding job opportunities through initiatives like strengthening the renewables industry to create millions of clean energy jobs. But now that he's well into his first year in office, environmental groups fear the Biden administration is neglecting these earlier assurances, and hope for the Green New Deal—the climate justice plan that progressives in Congress have outlined—is withering on the vine. The "bipartisan" infrastructure bill that has advanced through Congress is devoid of many of the core climate measures in Biden's initial infrastructure plan. The pending reconciliation bill will likely contain more dramatic climate provisions, but the prospects remain unclear. We talked to Joe Uehlein, Founding President of the Labor Network for Sustainability, about how the administration and Congress are falling short in moving to decarbonize the economy while protecting the workers who have the most to gain, or lose, in the transition from fossil fuels.
In other news, we look at the court ruling that could be a game changer for California rideshare drivers with Nicole Moore of Rideshare Drivers United, the window cleaners and Nabisco workers on strike, and the new left leadership in one of the UK's biggest unions. With recommended reading on a community takeover of McDonald's and deadly exploitation in coal mines. 
Thank you for listening to our 229th episode! If you like the show, you can support us on Patreon with a monthly contribution, at the level that best suits you.
If you're interested in advertising on the show, please email ads@dissentmagazine.org. And as always, if you have any questions, comments, or tips, email us at belabored@dissentmagazine.org
News
Kim Lyons, Judge rules California Prop 22 gig workers law is unconstitutional, The Verge
Eliza McCullough and Brian Dolber, Most California Rideshare Drivers Are Not Receiving Health-Care Benefits under Proposition 22, National Equity Atlas
Filiberto Nolasco Gomez, High Rise Window Cleaner Strike is Over, Workday Minnesota 
Alex Press, A Striking Nabisco Worker Explains Why She and 300 Coworkers Are on Strike in Chicago, Jacobin 
Aaron Gregg, Nabisco workers on strike in 5 states over pensions, outsourcing, Washington Post 
Alex Maguire, Sharon Graham's Unite election victory should not come as a surprise, New Statesman 
What's at stake for the left in Unite's General Secretary election? An interview with Steve Turner and Sharon Graham, Red Pepper 
Conversation
Just Transition Listening Project Report: Workers and Communities in Transition 
Ella Nilsen, Climate measures in reconciliation, infrastructure bills will mostly meet Biden's emissions goals, Schumer says, CNN 
Kate Aronoff, The Democrats Responded to the Latest U.N. Climate Report With Business as Usual, The New Republic
Argh, I wish I'd written that!
Sarah: Hanna Bechiche, Lovin it: How a group of Marseille workers seized a McDonald's and turned it into a foodbank, Gal-Dem
Michelle: Kari Lydersen, In the Coal Mines, Workers Are Dying to Make a Living, In These Times