The author of A Planet to Win talks about Biden's infrastructure proposals and why care jobs are green jobs.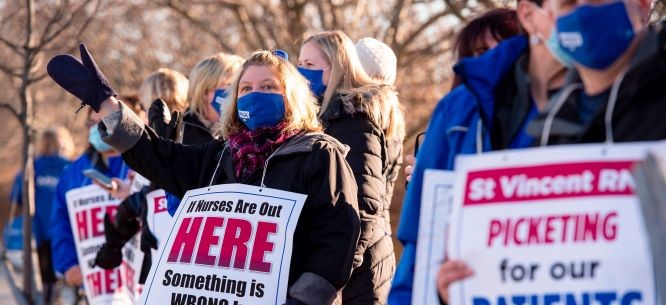 Subscribe to the Belabored RSS feed here. Support the podcast on Patreon. Subscribe and rate on iTunes, Stitcher, and Spotify. Tweet at @DissentMag with #Belabored to share your thoughts, or join the conversation on Facebook. Check out the full archive here. Belabored is produced by Colin Kinniburgh.
Care workers are organizing and striking around the country, from 800 nurses on the picket lines in Worcester, Massachusetts to a barely-averted strike of 4,000 hospital workers in Minnesota to 2,000 new nurse union members in Maine. But care work and "work-work" are still too often separated in people's minds, and in public policy. This week, to look at Joe Biden's "American Jobs Plan" and "American Families Plan" and assess them both in terms of economic and environmental impact, we're joined by Alyssa Battistoni, a fellow at Harvard's Center for the Environment, a member of Dissent's editorial board, and the co-author of A Planet To Win: Why We Need a Green New Deal. Alyssa is one of our favorite thinkers on care work as a green job, and we also talk a little bit about graduate student workers on strike too. 
Speaking of academic labor, we hear from Rutgers University's faculty union president Todd Wolfson on how a campus-wide coalition of workers saved jobs and built solidarity, and the ongoing struggle for citizenship rights for undocumented workers with Jonathan Jayes Green. We also look at the potential strike at Conde Nast publications the New Yorker, Pitchfork, and Ars Technica, and the raise that thousands of federal contractors are getting. For "Argh," we consider the (union) workers who make the Kentucky Derby happen, and the farmworkers who make your salads happen.
We are now on Patreon! You can sign up to support us with a monthly contribution, at the level that best suits you.
If you're interested in advertising on the show, please email ads@dissentmagazine.org. And as always, if you have any questions, comments, or tips, email us at belabored@dissentmagazine.org