Two congressional staffers discuss the push to unionize Capitol Hill.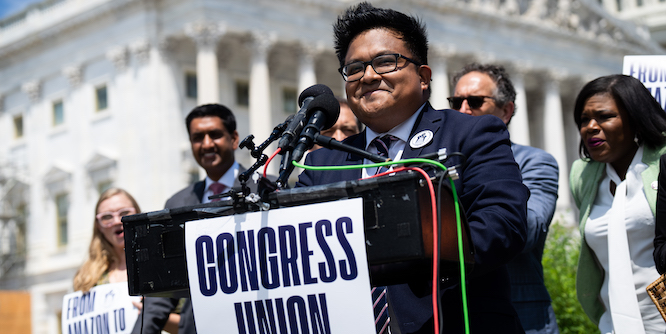 Subscribe to the Belabored RSS feed here. Support the podcast on Patreon. Subscribe and rate on iTunes, Stitcher, and Spotify. Tweet at @DissentMag with #Belabored to share your thoughts, or join the conversation on Facebook. Check out the full archive here. Belabored is produced by Colin Kinniburgh.
Congressional staff have for decades been denied the right to unionize and collectively bargain, but that changed earlier this year with the enactment of key legislation enabling legislative staff to form unions. For months, the Congressional Workers Union has been campaigning to secure union rights for legislative aides and others on Capitol Hill, and have organized staffers of representatives Cori Bush, Chuy Garcia, Ro Khanna, Andy Levin, Ted Lieu, Alexandria Ocasio-Cortez, Ilhan Omar, and Melanie Stansbury. The CWU has already negotiated for higher wage floors for congressional staffers and hopes to change the organizing landscape for government workers in Washington and beyond. On the heels of the first CWU election at the Levin's office, we spoke to two congressional staffers and organizers, Janae Washington and Taylor Doggett, about the political and cultural ramifications of the union drive on the Hill.
In other news, we look at the perils of hybrid work for women, a new farmworker bill for California, rideshare drivers under California's controversial independent-contractor law, and the UK's Labour Party conference. With recommended reading on working through Hurricane Ian and industrial policy without labor.
Thank you for listening to our 256th episode! If you like the show, you can support us on Patreon with a monthly contribution, at the level that best suits you.
If you're interested in advertising on the show, please email ads@dissentmagazine.org. And as always, if you have any questions, comments, or tips, email us at belabored@dissentmagazine.org

News
Rachel Hall, Hybrid working may hold back women's careers, say managers, Guardian
Eliza McCullough, Brian Dolber, Justin Scoggins, Edward-Michael Muña, and Sarah Treuhaft, Prop 22 Depresses Wages and Deepens Inequities for California Workers, National Equity Atlas 
Sarah Jaffe and Michelle Chen, Belabored: Stopping the Spread of Prop 22, Dissent 
Michelle Chen, A Blow for Labor Rights in California, Dissent
Labour disputes, UK: July 2022 update and future work, Office for National Statistics
Ruby Lott-Lavigna, Drivers' anger as Labour hosts Deliveroo 'PR event' at annual conference, openDemocracy
Jessica Garrison, Newsom signs UFW bill aimed at helping California farmworkers organize, Los Angeles Times 
Solcyre Burga, California Farmworkers March 335 Miles for Labor Rights, Time

Conversation