The Democrats in the House just passed a new stimulus bill, but what are its odds of passing the Senate? Rebecca Dixon of the National Employment Law Project breaks it down.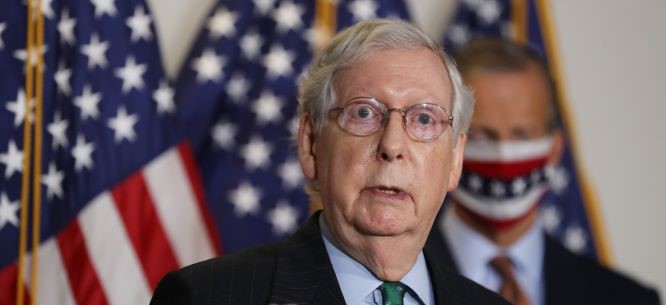 Subscribe to the Belabored RSS feed here. Support the podcast on Patreon. Subscribe and rate on iTunes, Stitcher, and Spotify. Tweet at @DissentMag with #Belabored to share your thoughts, or join the conversation on Facebook. Check out the full archive here. Belabored is produced by Colin Kinniburgh.
With the death of Ruth Bader Ginsburg, we have seen what the Republican party's priorities are: putting lifetime appointees on the Supreme Court who can further dismantle workers' rights, abortion rights, and every other kind of right we count on. What they don't seem to care about is the millions of people still unemployed and struggling to pay the bills without expanded unemployment benefits. The Democrats in the House have introduced a new HEROES Act and are pushing for quick passage, but what are its odds of passing? We speak to Rebecca Dixon, executive director of the National Employment Law Project and unemployment insurance expert, about what's happening.
We also look at the latest relief plan in the UK with economist James Meadway, a new study on manufacturing workers' struggles in the Midwest, a fight for fair pay for garment workers, and gig workers getting the benefit of Seattle's hazard pay law. For Argh, we consider the ongoing struggles of postal workers against attempts to dismantle the USPS, and the ways employers are spying on employees even while they work from home.
We are now on Patreon! You can sign up to support us with a monthly contribution, at the level that best suits you.
If you're interested in advertising on the show, please email ads@dissentmagazine.org. And as always, if you have any questions, comments, or tips, email us at belabored@dissentmagazine.org

News
Promises unfulfilled: Manufacturing in the Midwest
Clean Clothes Campaign: Garment workers and the pandemic
DoorDash and Postmates Pay Out More Than $350,000 to Seattle Gig Workers Due to Hazard Pay Law
James Meadway: The Tories' New Support Scheme Shows They're Adapting to Our New Reality. The Left Must Do the Same
Conversation
$2.2 trillion HEROES Act would provide second round of stimulus checks
Argh, I wish I'd written that!
Michelle: Steven Hill, In These Times, Employers Are Spying on Remote Workers in Their Homes
Sarah: Jacob Bogage, Washington Post, Postal Service workers quietly resist DeJoy's changes with eye on election