Though the occupation didn't last long, it shaped many subsequent campaigns and movements, including in organized labor.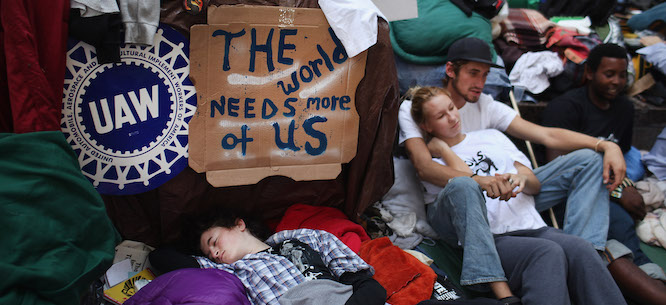 Subscribe to the Belabored RSS feed here. Support the podcast on Patreon. Subscribe and rate on iTunes, Stitcher, and Spotify. Tweet at @DissentMag with #Belabored to share your thoughts, or join the conversation on Facebook. Check out the full archive here. Belabored is produced by Colin Kinniburgh.
When Occupy Wall Street emerged a decade ago in a tiny park in the Financial District of New York City, it was met with skepticism among some activists. But as the occupation persisted and eventually spiraled into a global protest movement, that cynicism began to yield to inspiration, even for seasoned activists and organizers. Though Occupy didn't last very long, its enduring afterglow has shaped many subsequent campaigns and movements, including some leaders in the labor movement. In this second installment of our two-part series on Occupy, we discuss the movement's ramifications for organizing and class consciousness in New York and beyond, with Ruth Milkman, labor scholar at the City University of New York's School of Labor and Urban Studies and co-author of a landmark study on the participants of Occupy Wall Street, and Nastaran Mohit, Organizing Director of the NewsGuild of New York.
In addition to our in-depth interview, we cover the latest developments in the campaign to unionize meal-kit giant HelloFresh, and the conclusion of the Nabisco strike.
This episode of Belabored is part of a collective of podcasts brought together to explore the legacy of Occupy, in light of its ten-year anniversary. The producing partners for this project are the Rosa Luxemburg Foundation's New York office and The New School's Milano program. You can also hear analysis on Occupy's impact from The Dig and more of your favorite podcasts. We encourage you to learn more and listen to the other episodes at RosaLux.NYC/Occupy.
Thank you for listening to our 231st episode! If you like the show, you can support us on Patreon with a monthly contribution, at the level that best suits you.
If you're interested in advertising on the show, please email ads@dissentmagazine.org. And as always, if you have any questions, comments, or tips, email us at belabored@dissentmagazine.org
Sophie Peel, Nabisco Strike Ends After Majority of Bakers' Union Members Across US Approve New Contract, Williamette Week
Alex Press, Nabisco Workers Are on Strike in Three States, Jacobin
Jaya Saxena, The Largest Meal Kit Company in America Could Be the First to Unionize, Eater 
Lauren Kaori Gurley, HelloFresh Workers Unionize to Improve Brutal Working Conditions, VICE 
Conversation
Ruth Milkman, Stephanie Luce, and Penny Lewis, Changing the Subject
Ruth Milkman, Stephanie Luce, and Penny Lewis, Did Occupy Wall Street Make a Difference?, The Nation
Michelle Chen, Labor Movement Rolls Into Wall Street Occupation, In These Times
Chen, Immigrants Occupy! Broadening a Movement Culture, Common Dreams
Chen, Imagining a Just Recovery from Superstorm Sandy, In These Times
Chen, Occupying the Big Screen, The Progressive Magazine
Sarah Jaffe, What Sandy Wrought, Part 1, Rewire