Rebecca Kolins Givan and C.M. Lewis look back at the year in labor.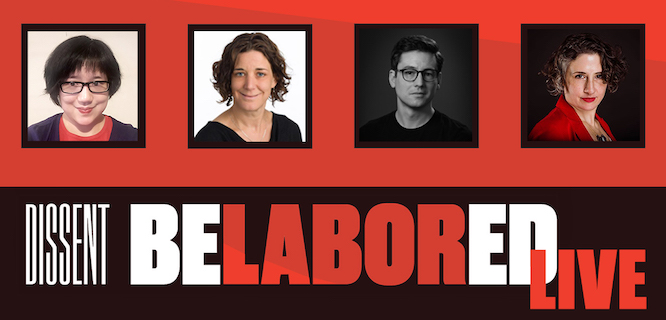 Subscribe to the Belabored RSS feed here. Support the podcast on Patreon. Subscribe and rate on iTunes, Stitcher, and Spotify. Tweet at @DissentMag with #Belabored to share your thoughts, or join the conversation on Facebook. Check out the full archive here. Belabored is produced by Colin Kinniburgh.
Last night Belabored hosted a discussion on the so-called Great Resignation, Striketober, and other developments in the labor movement in the pandemic era. We were joined by two friends of the podcast: Rebecca Kolins Givan, an associate professor of Labor Studies and Employment Relations in the School of Management and Labor Relations at Rutgers, the State University of New Jersey, and an expert on employment relations in health care and education, comparative welfare states and labor studies; and C.M. Lewis, writer and editor of the labor publication Strikewave and a union staffer in Central Pennsylvania.
We are on Patreon! If you liked the show this year, please sign up to support us with a monthly contribution, at the level that best suits you.
If you're interested in advertising on the show, you can email ads@dissentmagazine.org. And as always, if you have any questions, comments, or tips, email us at belabored@dissentmagazine.org
Further Reading
Rebecca Kolins Givan (@rkgwork)
C.M. Lewis (@thehousered)
Michelle, Workers Fight for Their Lives, In These Times
Sarah and C.M. Lewis, Nurses Are Striking Across the Country Over Patient Safety, The Nation
Marianne Garneau, "Striketober": Hopes and Realities, The Brooklyn Rail

James Meadway, When Will the 'Great Resignation' Turn Into the Great Strike? Novara Media
Deon J. Hampton, Factory workers threatened with firing if they left before tornado, employees say, NBC News
C.M. Lewis, The Buffalo Hospital Strike Is the Latest in a New Wave of Labor Unrest, The Nation
Sarah, A Transformative Time for Workers, The Progressive
Rebecca Kolins Givan and Pamela Whitefield, Women's Work? Voices of Vermont Educators, Rutgers School of Management and Labor Relations
Michelle, Jeff Bezos Praises Amazon's COVID-19 Response. Workers Tell Another Story. Dissent
Michelle and Molly Crabapple, This Amazon Grocery Runner Has Risked Her Job to Fight for Better Safety Measures, In These Times