Labor journalists discuss media coverage of the recent strike wave in Britain.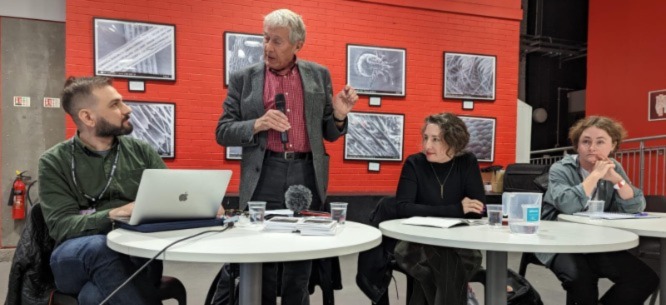 Subscribe to the Belabored RSS feed here. Support the podcast on Patreon. Subscribe and rate on iTunes, Stitcher, and Spotify. Tweet at @DissentMag with #Belabored to share your thoughts, or join the conversation on Facebook. Check out the full archive here. Belabored is produced by Colin Kinniburgh.
The ongoing strike wave in Britain has come with a wave of media coverage that ranges from mediocre to downright embarrassing. What happened to labor journalism, anyway? Sarah joined a panel of labor reporters at The World Transformed festival in Liverpool recently to discuss, and today we bring you that conversation, with Emiliano Mellino of the Bureau of Investigative Journalism, Nicholas Jones, former BBC industrial and political correspondent, and Polly Smythe, Novara Media's labor movement reporter. We look at how coverage has changed, what happened to the Fleet Street industrial reporters, the decline of media jobs writ large—in Britain, and across the world. 
We also check in on the Philadelphia Museum of Art strike (after we recorded this episode, the Philadelphia Museum of Art Union reached a tentative agreement with the museum, and called off this weekend's pickets while members consider and vote on the agreement). And we hear about a win for hotel workers in Scotland from Julie Nixon of Unite the Union, get an update from the Starbucks organizing campaign with Roastery union activist Key Lido, and look at the horrific conditions of labor in migrant detention centers. For Argh, we consider the role of unions in the Iranian women's uprising, and working conditions in the world of professional wrestling.
Thank you for listening to our 257th episode! If you like the show, you can support us on Patreon with a monthly contribution, at the level that best suits you.
If you're interested in advertising on the show, please email ads@dissentmagazine.org. And as always, if you have any questions, comments, or tips, email us at belabored@dissentmagazine.org

News
Beverly Banks, Starbucks Entity, Union Settle NLRB Complaint At NYC Shop, Law360 
Katy Scott, Cameron House accused of withholding tips from staff, BBC News
Daniel Wiessner, GEO Group says low immigrant detainee pay backed by ruling on Calif. prison ban, Reuters 
Tascha Shahriari-Parsa, Today's News & Commentary–Oct 6, OnLabor
Peter Crimmins, After 17 days, the Philadelphia Art Museum director acknowledges striking workers, WHYY 
Elaine Velie, Beleaguered Philadelphia Museum of Art Disables Social Media Comments, Hyperallergic
Sarah Jaffe and Michelle Chen, Belabored: Shutting Down the Ports, with Steve Gerrard and Liverpool Dockworkers, Dissent

Conversation
The death of labour journalism, and how we bring it back, The World Transformed 
Emiliano Mellino, The Week In Work, Substack
Polly Smythe, Novara Media 
Nicholas Jones, Emerging signs of more informed reporting of workers' grievances and industrial disputes

Argh, I wish I'd written that!
Sarah: Alborz Ghandehari, Teachers and Other Unionists Are Joining Iran's Gender Justice Uprising, In These Times and Bobby Ghosh, Oil and Gas Workers Add Fuel to Iranian Protesters' Fire, Washington Post)
Michelle: Tim Gill, In the WWE, Wrestlers Say Labor Abuses Are Everywhere, Jacobin