Reflections on what The New Yorker Union won, how they did it, and what other workers can learn from their victory.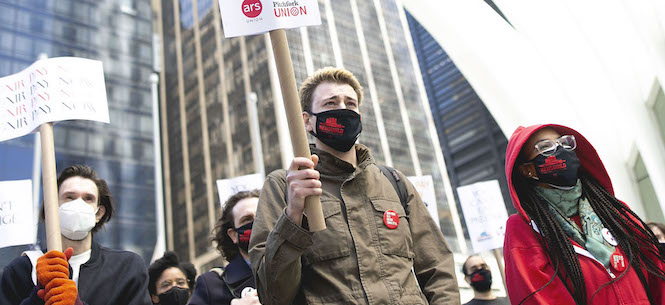 Subscribe to the Belabored RSS feed here. Support the podcast on Patreon. Subscribe and rate on iTunes, Stitcher, and Spotify. Tweet at @DissentMag with #Belabored to share your thoughts, or join the conversation on Facebook. Check out the full archive here. Belabored is produced by Colin Kinniburgh.
After two and a half years of bargaining, virtual picket lines, and a credible down-to-the-wire strike threat, the workers at the New Yorker—and Pitchfork and Ars Technica—have an agreement for a union contract. The last couple of months have seen heightened tensions and a very-much-not-virtual picket at the home of Anna Wintour, the Global Chief Content Officer of Condé Nast, the company that owns the publications in question. The workers are very pleased with the contract they won, which includes substantial raises and improvements to working conditions. In this episode, we speak with Gili Ostfield, a member of The New Yorker Union's bargaining team, about what the union won, how they did it, and what other workers in media—and outside of it—can learn from their victory.
We also speak with North Carolina care worker Samantha McLeod about good care jobs and the American Jobs Plan, and with Ligia Guallpa of the Workers Justice Project about organizing delivery workers in New York. Then we look at legal weed and labor peace in Connecticut and "lying flat," a perhaps-new resistance movement to always-on work culture in China. For Argh, we continue to consider rest—and the culture war's invasion of the classroom.
Thank you for listening to our 224th episode! If you like the show, you can support us on Patreon with a monthly contribution, at the level that best suits you.
If you're interested in advertising on the show, please email ads@dissentmagazine.org. And as always, if you have any questions, comments, or tips, email us at belabored@dissentmagazine.org
News
Lily Kuo, Young Chinese take a stand against pressures of modern life — by lying down, Washington Post
Cheryl Teh, More and more Chinese 20-somethings are rejecting the rat race and 'lying flat' after watching their friends work themselves to death, Insider
Clayton Guse, Restaurants would be required to allow NYC's 80,000 food delivery workers to use restrooms under proposed legislation, NY Daily News
Mark Pazniokas and Keith M. Phaneuf, Senate narrowly votes to legalize marijuana in Connecticut, CT Mirror
AFL-CIO & UFCW Urges Legislature to Include Labor Peace in Legal Cannabis Bill
Cannabis Economy Peace Laws Spread, Fertilizing Union Growth, Bloomberg Law
Dignity In Healthcare Petition
Rebekah Barber, Low-wage care workers rally for the American Jobs Plan, Facing South 
Conversation
Elahe Izadi, New Yorker union averts a strike, reaches agreement with bosses, Washington Post
Dave Jamieson and Marina Fang, New Yorker Workers Hold Significant Leverage In Strike Threat: A Weekly Print Product, HuffPost
Jada Yuan and Elahe Izadi, The New Yorker's labor dispute reaches Anna Wintour's doorstep, Washington Post
Argh, I wish I'd written that!
Sarah: Amelia Horgan, The politics of everyday life: rest, The New Statesman
Michelle: Jennifer C. Berkshire, Culture War in the K-12 Classroom, The Nation