"They have very unrealistic expectations of workers sacrificing their health so that people can buy makeup."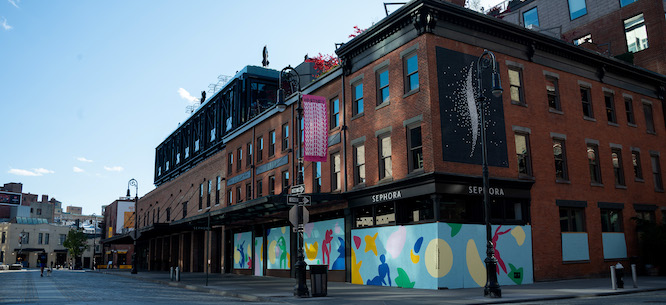 Read more of our coverage of the coronavirus crisis
here
.
When the crisis first closed retail stores, Sephora employees, according to a worker who wanted to remain anonymous, were told that the company was in good shape and that employees would be taken care of. "And then they called all the part-timers in to a Zoom chat, with very little notice, and fired everyone who had not been there for five years or who was part-time." That was some 3,000 workers.
"When they announced the closure of the stores, we knew a few days in advance," the worker, who is based in New York City, said. "They announced that we're going to close at 5 p.m. on such-and-such day, so they knew how dangerous it was." Yet the morning workers were still expected to come in. "The last day I was there, we had clients who were deeply upset that we were not doing [makeup] applications. We were not provided with any PPE [personal protective equipment], despite what they say. The PPE that was available was completely inadequate. We were not given masks—it was only gloves." They were allowed to decline to apply makeup to customers, the worker said, but some customers got quite angry.
Those who are still employed have been, the worker said, doing online learning and watching brand videos. The employee said they were also being pressured to "do makeover looks on ourselves and post them to social media for their use. We're being asked to be models and spokespeople for the company with our personal resources." That work, they said, was not being compensated or recognized the way actual modeling work would be. "What they're asking is, be the model, be the makeup artist, be the photographer, sell your image, sell rights to your image, for whatever your hourly base wage was."
They continued:
When Sephora started using employees as models in their ad campaigns, they're paying people to fly out to wherever and do their own makeup and do all this and they're paying them a retail wage. And their big push before all this, when the new CEO came on . . . was, "Be happy." Not be pleasant, be a good worker, have reasonable expectations, but, in this very gendered industry: be happy. Make sure the clients see you . . . smiling like "It's A Small World" at Disney. We know that part of the job is putting on makeup, and everyone knows the expectations when you're doing the emotional labor that you do in a retail job, but on top of that, be happy.
It's hard to be happy right now, though. Technically, the workers have still been getting paid but, the worker said, "They've had us using our PTO [Paid Time Off]. Those employees who did not have PTO available to them were forced to go into PTO debt, which they will be expected to work off like indentured servants after. . . . And the communications from management was that everyone had to make sacrifices for the company—the company which bragged about having no debt."
LVMH, Sephora's parent company, the employee noted, is quite successful. "There's basically multiple ways they could've bailed us out, and saved workers a little more, and saved more workers, because the people who were not full-time were mostly trying to be full-time."
But the thing that made the employee reach out to a reporter was the store's plan to reopen, which did not strike them as safe. They were told that they would be expected to return to work as soon as the city allowed them to reopen. "They're claiming that there will be [PPE] available," they said. "Our CEO's communications that go out to all employees said that Sephora employees would be taken care of through the end of May or until stores opened, whichever comes sooner. If the stores don't open, we all get fired. And if the stores do open, we have our health put on the line for people who want to return makeup."
The workers, they said, have been told to expect a lot of returned products, as customers would be trying to save money.
They plan on taking returns from clients, but that physically puts workers, especially in cashier positions, in danger, because we know the virus can live on surfaces for x number of days or x number of hours, and it's not like they're going to scan a barcode and then throw it in the garbage outside. There'll be multiple people in our operations team handling these and our cash wrap team handling these. Even with PPE, we just don't have the resources for everyone to stay physically safe from harm.
Returns, the worker said, normally go in the trash if it cannot be verified that the product has not been opened. "In this case, they have said that everything will be thrown out. But they've also said that there will be testers made. And that when we go back to stores, a lot of our work will be making testers"—communal samples for customers to use in-store.
At the best of times, makeup testers are, the worker noted, "pretty gross. You can't trust anything that anyone else has handled." But in this situation, they noted, "For the safety of employees, for the safety of clients, it's unconscionable."
With many of the part-timers laid off, the workers were expecting to have a lot to do when the stores reopened. "I've been warned that we're expected to do everything. Which means, if I am someone who typically works in the beauty studio, I will be expected to take returns on the cash register, if that's what they need. I will be stacking shelves, I will be doing whatever."
The worker also worried about the cleaning workers, who were subcontracted and many of whom were recent immigrants. "They are expected to handle trash, and I don't know if they will be offered or even told what their options for safety and hazmat handling will be. Again, it's the most vulnerable people who are going to be doing the most dangerous work. Because this virus is not going away, not anytime soon."
There are other basic worries about returning to work in New York City, where most of the employees rely on public transit and do not live near enough to their workplace to walk or bike to work.
Not everyone has health insurance. . . . It's available [through the company], but it's not achievable with the wages that we typically have. They have very unrealistic expectations of workers sacrificing their health so that people can buy makeup. Or return makeup. No one's giving hazmat suits to the workers who handle this. These people have kids, they have lives, they have rent to make, and I don't want to see people die because of a company that can afford to take the hit.
Note: A request for comment was sent to Sephora but a response was not received by press time. We'll update if we get a reply.
Update, May 11, 2020: We received the following comments on Saturday, May 9, credited to Satish Malhotra, EVP, Chief Retail and Operating Officer, Sephora:
We initially communicated that employees would be paid through April 3, when we originally planned to reopen stores, and every employee was paid through that period. However, the realities we faced in April required us to extend store closures. While we hoped we'd be able to reopen our stores sooner, keeping our stores closed was the right thing to do, but it forced us to make even tougher decisions. We have a strong and passionate culture and letting go of a portion of our part-time employees was the hardest decision we've had to make.

We know how difficult this news was to hear for impacted employees, and we wanted them to hear it directly from us. Given our employees were based all over the country, we chose the best means of communication that would be accessible to all employees and allow us to deliver consistent, accurate information and resources at once. Immediately following the initial 15-20-minute conference calls in each of our districts, we held one-on-one conversations with every impacted individual to field questions and provide support.

While we did make the very difficult decision to let go of less than half of our part-time and seasonal store employees, your readers should have the full context of our actions. In total, we have kept 70% of Sephora's US store employees (full- and part-time) and more than 80% of Sephora's overall US workforce on staff, with pay and existing benefits. This was a decision that we never wanted to make, and we recognize the effect this has had on impacted employees' lives. It is our sincerest hope that we will be able to rehire these individuals in the future. More information on this decision is also available on our website.

Ahead of our last day in stores, we alerted all store teams of the shortened hours and what the day would look like in order to set expectations in advance. The last day in stores was focused on taking precautions to get the store shut down properly and safely, which required a full team effort. We upheld the same client service standards as we always do, while making it clear that employees were not expected to touch clients and that they did not have to come in if they did not feel comfortable – a point we encouraged they communicate to their managers.

While stores were still open in the beginning of March, we did provide all employees with gloves and hand sanitizer to be used during their shifts. This was in accordance with guidance from the CDC, which at the time recommended that individuals not wear masks unless they were healthcare providers or potentially infected with COVID-19. As the situation remained fluid, the CDC updated that guidance after our stores were closed.

It's important to note that while our stores remain closed, we are paying 100% base pay and benefits to our field staff.

While stores remain closed, our employees have had the option of participating in Sephora @ Home online learning modules, which cover a variety of relevant training topics and are offered several times per week. Employees were told that none of these trainings were mandatory and they have continued to be compensated during this time.

Some of our stores teams have been sharing content on local store social accounts and have invited employees to participate in these efforts to bring the Sephora experience to clients at home. Again, participation has always been voluntary, and employees were never told that it is mandatory. None of this content was created for national advertising purposes.

Separately, Sephora does have a national program in which we involve employees as influencers, and they are compensated above and beyond their field pay via a separate influencer contract with the same compensation principles as our external influencers.  This Sephora Squad program, however, is a separate effort. Employees apply for the program and are fully compensated for their social media efforts on behalf of the brand.

After making the decision to extended store closures in both the US and Canada, we needed to make decisions that adhered to different regional employment laws. In the US, both corporate and store employees are drawing down PTO, which is the equivalent of approximately 20% of salary during the shutdown. For added context, in Canada, both corporate and store employees are taking a 20% pay cut. Employees may elect to use their PTO to reach 100% of their salary.

The extended store closures have created a new reality for all businesses worldwide, including Sephora and LVMH. Without revenue from stores, and with continued costs like payroll, rent, and upkeep, Sephora had to navigate these factors responsibly, while also protecting our ability to reopen stores when the time comes. Across LVMH, our partners have also felt the impact and have similarly needed to make difficult business decisions to reduce costs and navigate this challenging retail environment.

We are still in the process of finalizing our plans for reopening and have not yet announced our plans publicly. We have shared high-level guidance on our anticipated reopening procedures with our internal teams, but the details have been evolving as plans continue to develop and local governance dictates some of the details. We will communicate our final plans with our external community in the coming weeks, and any information regarding our reopening plan prior to that is still being updated based on conditions in local markets. Our stores will remain closed until we can safely welcome clients and employees back into our spaces in accordance with local health guidance. We are taking a phased approach to reopening our stores in accordance with respective state guidelines. In many areas, we will reopen stores later than when states relax social distancing restrictions, and we will open only when it is deemed safe and appropriate to do so, taking precautions advised by health authorities to ensure the safety of our employees, clients and the community.

The employee is speculating on our return process when we reopen stores; we are not sure where s/he arrived at this assumption. In fact, the plan is that in order to protect our employees, all products returned in our stores will be destroyed until further notice.
---
Sarah Jaffe is a reporting fellow at the Type Media Center, the author of Necessary Trouble: American in Revolt, and the co-host of Dissent's Belabored podcast.