Amazon workers face hazardous conditions, but many can't afford to stay home.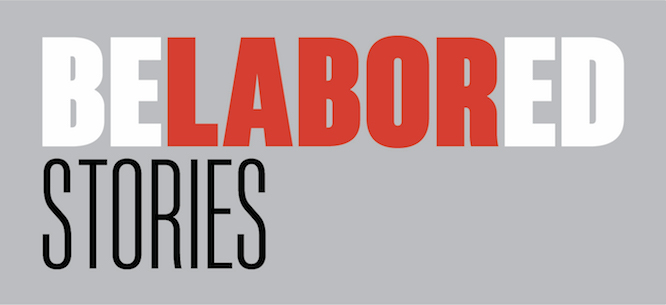 Read more of our coverage of the coronavirus crisis
here
.
Belabored is a labor podcast hosted by Sarah Jaffe and Michelle Chen. Belabored Stories, a new feature, will present short accounts of what workers are facing during the coronavirus pandemic. Send us your stories at belabored@dissentmagazine.org
At a time when state and federal officials are ordering communities to go into lockdown and businesses to shutter to prevent the COVID-19 outbreak from spreading, Amazon is wide open for business. They plan to bring on some 100,000 new workers into the e-commerce giant's extensive supply chain, including its massive processing facilities and vast network of delivery drivers.
An Amazon warehouse worker at the Shakopee fulfillment center in Minnesota told me that when he was at work earlier this month, he did not observe any special procedures for protecting workers from coronavirus, other than basic sanitary provisions and posters warning about the health risks. But around that time, he was sent home, not because of the virus, but due to an injury he had suffered. Speaking by phone, he said he was eager to return to work, regardless of the threat of infection, "because I have to feed my family." He acknowledges that coronavirus is a problem, especially if Amazon keeps lagging on providing sanitary protection at the warehouse. But the workers at Shakopee already have to face a hazardous working environment even in normal times. The facility is already known for its high occupational injury rate, with more than triple the rate of occupational injury for the warehouse sector in 2018.
He said that when he was at work in mid-March, he saw an alarming lack of preparedness at his facility, which employs about 1,500 workers. "They don't have training . . . they posted a paper on the wall . . . that's not enough. That's not enough."
Amazon workers at Shakopee, many of them immigrants from East Africa, are some of the most organized and militant workers in the Amazon empire. They have staged strikes and protests in recent months, demanding more humane working conditions and better safety protections. The virus has placed those concerns in sharp relief. Though the Shakopee workers, along with other worker groups that have cropped up around other Amazon facilities in Washington, D.C., New York, and other cities, have long been agitating for fairer and safer conditions at Amazon fulfillment centers, COVID-19 poses an unprecedented challenge.
So far Amazon has insisted that it is taking steps to keep workers as safe as possible. Earlier this month the company announced that it would offer accommodations for workers who are concerned about or at risk of infection: unlimited unpaid time off, or two weeks of paid time off for workers who are either diagnosed with COVID-19 or quarantined for it. Amazon also says it is making its facilities safer and cleaner, including  staggering shifts to physically spread workers out, and requiring them "to sanitize and clean their work stations and vehicles at the start and end of every shift with disinfectant/cleaning wipes." All employees are also reportedly ordered to "wash their hands often with soap and water for at least 20 seconds," particularly when after using the bathroom or before eating. But allotted break periods during their work time remain essentially the same.
Phillip Ruiz, an Amazon worker at the JFK8 fulfillment center in Staten Island, decided to go on unpaid leave two weeks ago, due to fears of potentially putting his aging father at risk of infection. He told me,
This isn't just on Jeff Bezos, even though he makes the ultimate decision. But I feel like management and the human resources department, I'm pretty sure if they wanted to, they could make a decision to do the right thing and close the building down. Or if they're not going to do that, provide enough equipment that the workers could feel more than safe to work. But the problem is they're not.
Ruiz understands why his coworkers may be reluctant to stop working like he did, fearing a loss of income, or having unpaid leave time reflect poorly on their record. But he worries about how exposed they are at work. "I keep in contact with coworkers [who] are still working there," he said. "And they're barely providing enough equipment in terms of gloves, hand sanitizer, the face masks that people use, as far as keeping them safe."
Ruiz, who has worked for Amazon for nearly two years, knows he could go back to work and get a substantial raise on top of his current wage of about $19 an hour. But the risks still outweigh the benefits to him. "At the end of the day, if it ain't safe, and we end up catching this, what's the money to us?"
---
Michelle Chen is a contributing editor to Dissent and co-host of its Belabored podcast.