British dockworkers join the podcast to talk about ongoing strikes in Liverpool and Felixstowe.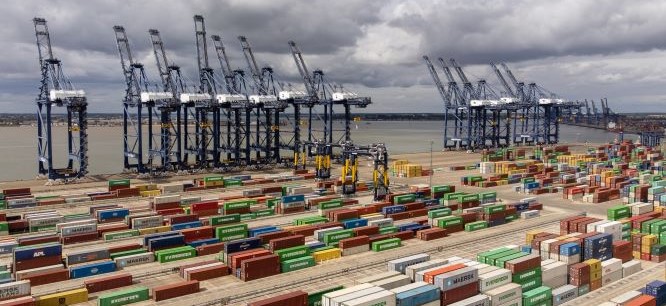 Subscribe to the Belabored RSS feed here. Support the podcast on Patreon. Subscribe and rate on iTunes, Stitcher, and Spotify. Tweet at @DissentMag with #Belabored to share your thoughts, or join the conversation on Facebook. Check out the full archive here. Belabored is produced by Colin Kinniburgh.
Summer is over, but strike season is continuing in Great Britain, under not only a new prime minister but a new monarch. This week's episode combines our ongoing coverage of British worker unrest with our intermittent series on logistics workers, as we discuss port strikes with Steve Gerrard, national coordinator for Unite the Union, and worker leaders from the port of Liverpool: John Lynch, Tommy Jennings, Ryan Healey, and Des Prescott. We discuss working through the COVID-19 pandemic, the combined port strikes at Felixstowe and Liverpool, the Tory plan to create "freeports" to lower labor standards in port areas, and the ongoing cost of living crisis. 
We also hear from Hugh Sawyer of Railroad Workers United about the narrowly averted (for now) railroad workers' strike, and Adam Rizzo of the Philadelphia Museum of Art workers, on today's one-day strike. And we check in on the historic collective bargaining agreement signed by the U.S. women's soccer team, and the 15,000 nurses on strike in Minnesota. For Argh, we consider the legal status of franchisees and independent contractors, and the people still working while their coworkers are quitting. 
Thank you for listening to our 255th episode! If you like the show, you can support us on Patreon with a monthly contribution, at the level that best suits you.
If you're interested in advertising on the show, please email ads@dissentmagazine.org. And as always, if you have any questions, comments, or tips, email us at belabored@dissentmagazine.org

News
Barry Svrluga, The USWNT won Tuesday night, then celebrated a much greater victory, Washington Post
Workers at storied Philadelphia Museum of Art authorize a strike, AFSCME
Taylor Dafoe, Union Workers at the Philadelphia Museum of Art Are Going on a One-Day 'Warning' Strike, Artnet News
Josh Eidelson and Augusta Saraiva, Rail-Strike Deadline Carries Economic and Political Risks for Biden, Bloomberg
Jim Tankersley, Railroad Unions and Companies Reach a Tentative Deal to Avoid a Strike, New York Times
Chris Isidore and Adrienne Broaddus, Massive health care strike: 15,000 Minnesota nurses walk off the job, CNN Business 

Conversation
Fresh strike dates announced in Felixstowe dispute as workers reject imposed pay deal, Unite
Liverpool docks braced for disruption after MDHC port operatives overwhelming strike vote, Unite
Margherita Bruno, Liverpool port strike goes ahead as parties fail to reach agreement, Port Technology
Workers at two big British ports to strike later this month, CNN
Paul Seddon, Freeports: What are they and will they help the economy? BBC News 
Dominic McGrath, Liz Truss promises 'full-fat freeports' with vow to cut red-tape for business, Independent