The strike is back in Britain but the Conservative government is out to crush the unions. What lessons should labor learn from the 1980s?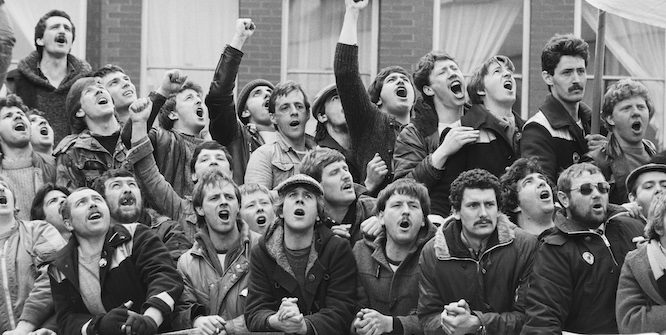 Subscribe to the Belabored RSS feed here. Support the podcast on Patreon. Subscribe and rate on iTunes, Stitcher, and Spotify. Tweet at @DissentMag with #Belabored to share your thoughts, or join the conversation on Facebook. Check out the full archive here. Belabored is produced by Casey Stone.
The miners' strike in the early 1980s was a turning point for British labor. The defeat of the powerful National Union of Mineworkers at the hands of Margaret Thatcher signaled open season on organized workers, and it was accomplished in part through the use of new and brutal police tactics. These days, the strike is back across Britain, with workers fighting for and in many cases winning inflation-busting wage hikes and improved conditions, driving out bad bosses, and demanding recognition for all that "essential" work during the pandemic. Today's Conservative government is attempting to take a page from Thatcher's book to crush the unions any way they can, including with new legislation designed to drastically curtail the right to strike.
This week, we take a step back and consider the strike wave in the context of that history, with longtime organizer Joe Rollin with Unite the Union, and journalist, author, and filmmaker Morag Livingstone, co-author of Charged: How the Police try to Suppress Protest.
We also hear about some new rights for workers thanks to the Minnesota state legislature, what the Rutgers unions won, the latest on the struggles of Starbucks workers with Evan Sunshine of Starbucks Workers United, and warehouse workers' fight for safe conditions.
Thank you for listening to our 266th episode! If you like the show, you can support us on Patreon with a monthly contribution, at the level that best suits you.
If you're interested in advertising on the show, please email ads@dissentmagazine.org. And as always, if you have any questions, comments, or tips, email us at belabored@dissentmagazine.org.
This season of Belabored is supported in part by the Economic Hardship Reporting Project.
News
Matt Dougherty, Cornell Students Organize to Kick Starbucks off Campus, Ithaca.com
Irene Tung, Fighting for Safe Work: Injury Data Show Urgent Need for Intervention in NY State's Warehouses, National Employment Law Project
P. Kenneth Burns, 'We have to continue to teach this university a lesson': 3 Rutgers faculty unions vote to ratify contract, but say 'unfinished business' remains, WHYY
Mary Ann Koruth, Here are the raises, new benefits included in Rutgers union contracts approved today, Northjersey.com
Abdirahman Muse, Emma Greenman, and Erin Murphy, Minnesota Enacts Landmark Protections for Amazon Warehouse Workers, The Nation
Max Nesterak, Minnesota lawmakers approve 9 major worker-friendly changes, Minnesota Reformer
Matt Butler, Starbucks closing last two Ithaca locations, union fight brewing, The Ithaca Voice
Conversation
Charged: How the Police try to Suppress Protest
Orgreave Truth and Justice Campaign