Retail has historically been one of the hardest sectors to organize, but workers at REI are bucking that trend.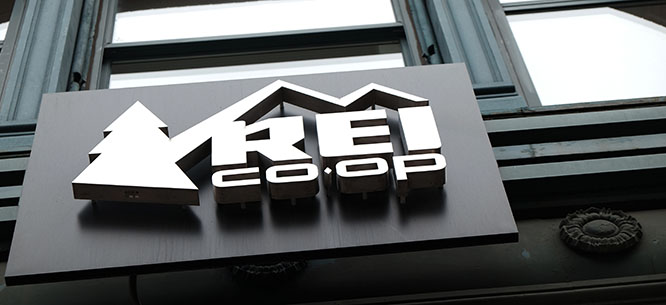 Subscribe to the Belabored RSS feed here. Support the podcast on Patreon. Subscribe and rate on iTunes, Stitcher, and Spotify. Tweet at @DissentMag with #Belabored to share your thoughts, or join the conversation on Facebook. Check out the full archive here. Belabored is produced by Colin Kinniburgh.
Retail has historically been one of the hardest sectors to organize, with its high turnover, precarious workforce, and big employers that can invest time and money in crushing union drives. The workers at REI, a retail chain and consumer co-op that specializes in outdoor gear and sportswear, have been bucking that trend. Earlier this month, they voted overwhelmingly to form a union at one of the brand's flagship stores in Downtown Manhattan's SoHo neighborhood. During their campaign, they cited concerns about training, safety and scheduling issues, and a lack of worker input in workplace decision-making.
Just as Starbucks, Amazon, and other large companies have done when with faced unionization efforts in recent months, REI tried to deter workers from organizing with heaps of anti-union propaganda, while also trying to frame itself as a friendly, progressive employer that didn't want a union interfering with its special relationship with its workforce. We spoke with Steven Buckley, a retail sales specialist and member of the REI SoHo Organizing Committee (now a member of the Retail, Wholesale and Department Store Union, or RWDSU), about how the store's workers dealt with anti-union resistance, and how they managed to turn the crisis of the pandemic into an organizing opportunity.
In other news, we look at the ongoing Minnesota teachers' strike, the struggles of maritime workers off the British coast (with Laleh Khalili, professor of international politics at Queen Mary University of London), new legislation to decriminalize massage workers in New York City (with Esther Kao of Red Canary Song and Jared Trujillo of the NYCLU), and research on which workers are still making less than $15 an hour, with recommended reading on the unappreciated labor of paraeducators and the corporate exploitation of the cost of living crisis.
Thank you for listening to our 243rd episode! If you like the show, you can support us on Patreon with a monthly contribution, at the level that best suits you.
If you're interested in advertising on the show, please email ads@dissentmagazine.org. And as always, if you have any questions, comments, or tips, email us at belabored@dissentmagazine.org
News
Akičita Šuŋka-Wakaŋ Ska and Niko Georgiades, Students Occupy Minneapolis Public Schools Admin Building in Solidarity with Teachers Strike, Unicorn Riot
Mara Klecker and Kim Hyatt, Minneapolis teachers strike standoff intensifies as talks stall, Star Tribune
Jem Bartholomew, 'It wasn't just a sacking, it was an eviction': a P&O seafarer tells his story, Guardian
Jennifer Meierhans & Katy Austin, New P&O crew on less than £2 an hour, union claims, BBC News
Information on Massage License Decriminalization Act, Red Canary Song
Leslie Albrecht, 'It's shameful': Nearly one-third of US workers make less than $15 an hour, MarketWatch 
Amid record inflation, new Oxfam research finds more than 50 million US workers earn less than $15 per hour, Oxfam
Conversation
Steven Buckley (Retail Sales Specialist, member of the REI Union Soho Organizing Committee, RWDSU member)
Noam Scheiber, REI Workers in New York Vote to Unionize, New York Times
Argh, I wish I'd written that!
Sarah: Christine Berry, Who's profiting from the cost of living crisis? Right now, it's big business owners, Guardian
Michelle: Nora De La Cour, Paraeducators Are Critical to the Classroom — and They Make Poverty Wages, Jacobin