What the fall of Roe means for workers.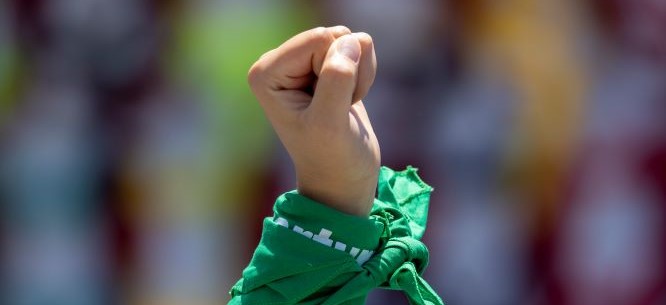 Subscribe to the Belabored RSS feed here. Support the podcast on Patreon. Subscribe and rate on iTunes, Stitcher, and Spotify. Tweet at @DissentMag with #Belabored to share your thoughts, or join the conversation on Facebook. Check out the full archive here. Belabored is produced by Colin Kinniburgh.
After the overturning of Roe v. Wade by the Supreme Court, the connection between abortion rights and labor rights is acutely clear—both are under attack by right-wing activists, who see abortions and unions as threats to the patriarchy. In response to the ruling, a number of states have rushed to pass legislation to shore up access to abortion care. But should we be having a more comprehensive discussion about the economic effects of abortion bans? We spoke with Asha Banerjee of the Economic Policy Institute about what the fall of Roe means for workers.
In other news, we look at abuses against independent contractors in New York with Lina Moe of the Center for New York City Affairs at the New School, a parallel struggle to organize delivery workers in China with organizer Eric Chen, the state of labor rights and freedom of association around the world, and brewing labor unrest this summer across the UK. With recommended reading on the plight of delivery app workers in Britain and the struggle to unionize Planned Parenthood in Texas.
Thank you for listening to our 250th episode! If you like the show, you can support us on Patreon with a monthly contribution, at the level that best suits you.
If you're interested in advertising on the show, please email ads@dissentmagazine.org. And as always, if you have any questions, comments, or tips, email us at belabored@dissentmagazine.org

News
James Parrott and L.K. Moe, For one in 10 New York Workers: 'Independent Contractor' Means Underpaid and Unprotected, Center for New York City Affairs
Emily Feng, He Tried To Organize Workers In China's Gig Economy. Now He Faces 5 Years In Jail, NPR
2021 ITUC Global Rights Index: COVID-19 pandemic puts spotlight on workers' rights, International Trade Union Confederation
Archie Bland, What are the UK rail strikes about and how long will they go on?, The Guardian
Peter Walker, UK summer of unrest? Strikes in the air from barristers to NHS, The Guardian
Mark Sweney, BT staff vote for first national strike in 35 years, The Guardian

Conversation
Asha Banerjee, Abortion rights are economic rights: Overturning Roe v. Wade would be an economic catastrophe for millions of women, Economic Policy Institute
Sheelah Kolhatkar, The Devastating Economic Impacts of an Abortion Ban, The New Yorker

Argh, I wish I'd written that!
Sarah: Eve Livingston, Food delivery drivers fired after 'cut-price' GPS app sent them on 'impossible' routes, The Observer
Michelle: Amy Littlefield, The Struggle to Unionize Planned Parenthood in Texas, Lux