A new book, Unions Renewed, suggests that labor needs to update its playbook for a new period of capitalist development.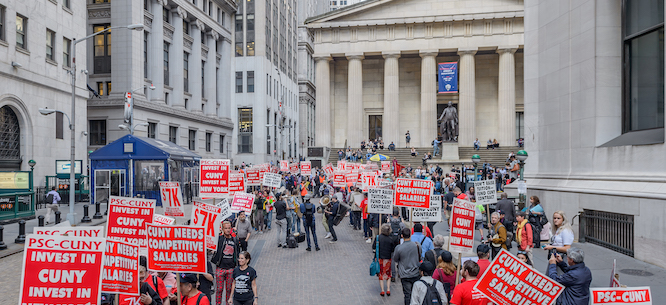 Subscribe to the Belabored RSS feed here. Support the podcast on Patreon. Subscribe and rate on iTunes, Stitcher, and Spotify. Tweet at @DissentMag with #Belabored to share your thoughts, or join the conversation on Facebook. Check out the full archive here. Belabored is produced by Colin Kinniburgh.
Elections come and go, but some major problems continue to plague labor unions on both sides of the Atlantic, and many of those problems have their roots in the financialization of our economy. Yet unions are often stuck in a playbook that was written in a different period of capitalist development, and it shows in their struggles. How do unions adapt to a financialized world? Alice Martin and Annie Quick have some suggestions, and they wrote them down in an eminently readable book, Unions Renewed: Building Power in an Age of Finance. They're our guests this week on the 211th episode of Belabored.
We also look at a strike of essential workers who keep hospitals supplied and clean, another strike of nursing home workers, with Rosalind Reggans, the potential for lots of new green union jobs in offshore wind, and the pandemic's impact on migrant workers' rights in the Gulf, with Mustafa Qadri of Equidem. For Argh, we look at the struggles of retail workers as virus numbers spike, and a slow-burning public health crisis in a Southern town.
We are now on Patreon! You can sign up to support us with a monthly contribution, at the level that best suits you.
If you're interested in advertising on the show, please email ads@dissentmagazine.org. And as always, if you have any questions, comments, or tips, email us at belabored@dissentmagazine.org
News
Laundry, Distribution, and Food Service Joint Board, Workers United/SEIU
SEIU-Backed Workers Plan Strike in Perth Amboy (New Jersey Globe)
Nearly 700 nursing home workers strike for hazard pay, better conditions at Infinity centers (Chicago Sun-Times)
Nearly 700 nursing home workers walk off job, begin strike in fight for better wages, hazard pay, PPE (ABC 7)
Ørsted strikes deal with labor union on U.S. offshore wind development (Reuters)
North America's Building Trades Unions (NABTU) and Ørsted Sign Landmark MOU for U.S. Offshore Wind Workforce Transition
The cost of contagion: the human rights impacts of COVID-19 on migrant workers in the Gulf region
Conversation
Unions Renewed: Building Power in an Age of Finance by Alice Martin and Annie Quick
Martin and Quick: Our Financialised Care System is Built on a House of Cards – We Urgently Need to Rebuild It (Novara)
Replacing rentier capitalism is one of the defining challenges of our age (openDemocracy)
Martin and Quick: Solidarity is in the Details: Unions Adapt to a COVID-19 World (Democratic Left)

Argh, I wish I'd written that!
Sarah: Michael Corkery and Sapna Maheshwari, Virus Cases Rise, but Hazard Pay for Retail Workers Doesn't (New York Times)
Michelle: Alexis Okeowo, The Heavy Toll of the Black Belt's Wastewater Crisis (New Yorker)