For a short time in 1919, the working class ran the city of Seattle. Radicals experienced intense police violence, and those deemed "outside agitators" faced deportation. The story of a general strike.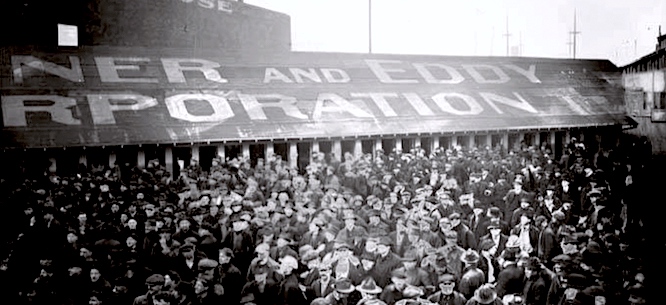 Subscribe to the Belabored RSS feed here. Support the podcast on Patreon. Subscribe and rate on iTunes, Stitcher, and Spotify. Tweet at @DissentMag with #Belabored to share your thoughts, or join the conversation on Facebook. Check out the full archive here. Belabored is produced by Colin Kinniburgh.
This week, as protests continue in all fifty states and in several countries around the world against white supremacist violence and police brutality, we bring you an episode that might at first not seem related: an interview with historian Cal Winslow on his book Radical Seattle: The General Strike of 1919. Even before these uprisings, many people were talking about the potential for the pandemic to bring about a general strike in America, and so we seized this opportunity to interview Winslow for Red May in Seattle. You can watch the whole thing on YouTube if you'd like.
But our talk about the organization of the working class in Seattle—including the tensions over organizing black and Japanese workers alongside white ones—explored the question of what it means when, for a little while, the working class runs the city. Because that's what happens during a general strike. And it is happening now. Friends of the show in Minneapolis and elsewhere are not just holding the line against the police but also organizing mutual aid to make sure that people are fed. The radicals in Seattle faced intense police violence and militarized crackdowns, and the deportation of organizers deemed "outside agitators." That, too, is an important part of labor's history.
As the protests continue, labor will persist in asking which side it is on, and persist in being asked difficult questions about the role of police unions. This is not going to be an easy process, but as the Amalgamated Transit Union Local 689 admonished labor: "Let us never forget that the conditions that built many of our unions (including: civil unrest, widespread unemployment, mass demonstrations) are not too different from today." In that spirit, we bring you the story of Seattle 1919.

This week's show was supported by our monthly sustaining members. If you think our work is worth supporting, please consider becoming a member today. If you're interested in advertising on the show, please email ads@dissentmagazine.org. And as always, if you have any questions, comments, or tips, email us at belabored@dissentmagazine.org.

Further Reading:
Cal Winslow: When the Seattle General Strike and the 1918 Flu Collided (Jacobin)

Cal Winslow: When Being a Red Meant Risking Your Life (Jacobin)