Why is the labor movement in Minnesota thriving? SEIU Local 26 joins us to talk about the Twin Cities' robust network of grassroots worker centers and unions.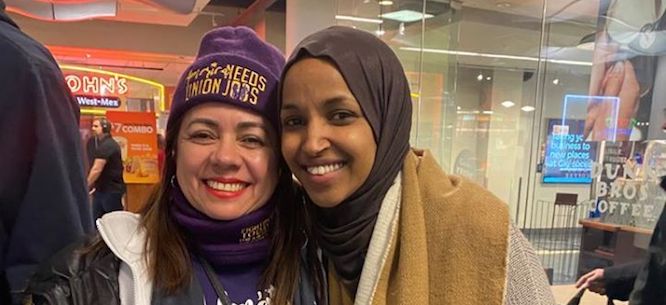 Subscribe to the Belabored RSS feed here. Subscribe and rate on iTunes here or on Stitcher here. Check out the full Belabored archive here. Tweet at @dissentmag with #belabored to share your thoughts, or join the conversation on Facebook. Belabored is produced by Natasha Lewis.
This week, workers with SEIU Local 26 rallied in the streets of Minneapolis to call for #UnionsforAll. As union contracts expire for about 8,000 union members, who work in the janitorial and security sectors across the Twin Cities area, workers called for "jobs that support joyful families." We speak with the current and former presidents of SEIU Local 26, Iris Altamirano and Javier Morillo, about the labor movement in the Twin Cities, which includes not only SEIU workers but also a robust network of grassroots worker centers, and what the union is looking forward to in the coming contract negotiations. 
In other news, we look at a new collective bargaining agreement for women basketball players, and we also talk to Zara Nasir and M. Ndigo Washington on their quest to unionize New York City Council staff, Gawain Kripke on Oxfam's report on global economic and gender inequality, and Sharon Block and Ben Sachs on their new blueprint for overhauling labor law to fit the twenty-first century. With recommended reading on the unions fighting to organize in the gig economy, and mothers struggling to find decent childcare. 
Note for our listeners: we'll be taking February off as we work on other projects, but we'll be back in March!
This week's show was supported by our monthly sustaining members. If you think our work is worth supporting, please consider becoming a member today. If you're interested in advertising on the show, please email ads@dissentmagazine.org. And as always, if you have any questions, comments, or tips, email us at belabored@dissentmagazine.org.

News:
Oxfam "Time to Care" report  (Oxfam)
City Council staffers gather signatures, small donations to create NYC's first large new union in decades (NY Daily News)
Clean Slate for Worker Power (Labor and Worklife Program, Harvard Law School)
W.N.B.A. Makes 'Big Bet on Women' With a New Contract (New York Times)
Conversation:
Iris Altamirano, new president of SEIU Local 26, and Javier Morillo, former president of SEIU Local 26
U of M research offers rare look at the lives of janitors (MinnPost)
Argh, I Wish I'd Written That: 
Michelle: Ashley Fetters, The Working-to-Afford-Child-Care Conundrum (The Atlantic)
Sarah: Bethan Staton,The upstart unions taking on the gig economy and outsourcing (Financial Times)