An inside look at the gig economy. Plus: updates from the GM strike, a teachers' strike looming in Chicago, and more.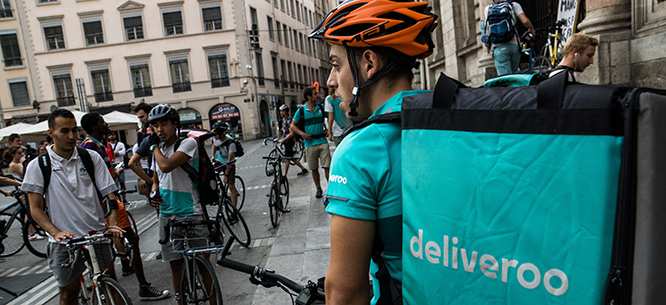 Subscribe to the Belabored RSS feed here. Subscribe and rate on iTunes here or on Stitcher here. Check out the full Belabored archive here. Tweet at @dissentmag with #belabored to share your thoughts, or join the conversation on Facebook. Belabored is produced by Natasha Lewis.
The gig economy gets a lot of press, but relatively little of the writing on the subject comes from the inside. Callum Cant's new book, Riding for Deliveroo, aims to change all that. It's a firsthand account of being a Deliveroo driver in the UK, as well as an analysis of how platform capitalism functions—or doesn't function—and what it would take to remake it so that it worked for the workers, and therefore for all of us. Cant sat down with Belabored for an in-depth discussion of his work, from the day-to-day grind to the organizing process that is still powering waves of wildcat strikes of Deliveroo and UberEats couriers across the UK, and offers some suggestions for how better to understand the people who work in these jobs.
We also bring you updates from the GM strike and from the Chicago Teachers Union, where another strike looms as well; we check in on graduate employees' up-and-down fortunes with the NLRB, and the UK Labour party's radical policy agenda laid out at its recent conference, including the embrace of the four-day working week. For Argh, we consider the struggles when the union's the boss, and why the path to climate justice runs through victory for the autoworkers at GM.
This week's show was supported by our monthly sustaining members. If you think our work is worth supporting, please consider becoming a member today. If you're interested in advertising on the show, please email ads@dissentmagazine.org. And as always, if you have any questions, comments, or tips, email us at belabored@dissentmagazine.org.

News:
Michelle: Trumpsters: Grad Students Are Not Workers, Have No Rights (The Progressive)
Sarah: The Road Not Taken (on GM at Lordstown) (The New Republic)
As GM strike continues, talks advance at Fiat Chrysler, Ford (The Washington Post)
3 Chicago unions, including CPS teachers, could soon go on strike together in 'an extraordinarily disruptive moment' (Chicago Tribune)
Sarah: The Four-Day Work Week—Not Just a Daydream (The Progressive)
Belabored #177: More Hours for What We Will, with Will Stronge (Dissent)
Conversation:
Callum Cant at Notes from Below
Riding for Deliveroo: Resistance in the New Economy (Polity)
Argh: 
Michelle: Jane McAlevey, The Path to Climate Justice Runs Through the UAW Strike (The Nation)
Sarah: Hamilton Nolan, SEIU's Nasty Fight With Its Own Staff Union (Splinter)