We hear about a new union in the UK organizing everyone from foster care workers to Uber drivers. Plus: an interview with a striking General Motors worker.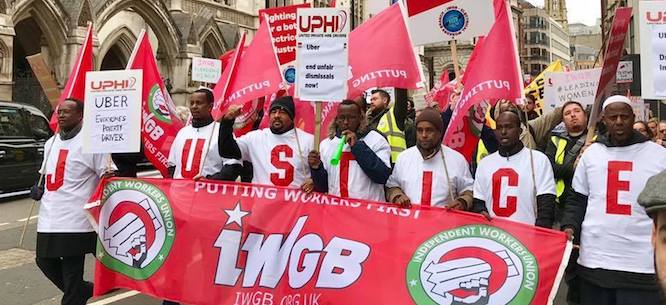 Subscribe to the Belabored RSS feed here. Subscribe and rate on iTunes here or on Stitcher here. Check out the full Belabored archive here. Tweet at @dissentmag with #belabored to share your thoughts, or join the conversation on Facebook. Belabored is produced by Natasha Lewis.
General Motors workers took to the picket lines this week around the United States, in an unexpected and major strike that has long-term implications. We talk to autoworker Sean Crawford about the strike and what's at stake. Then, from the UK, as the Labour party gathers for its annual conference and The World Transformed festival, we bring you an extended interview with Jason Moyer-Lee of the Independent Workers Great Britain (IWGB), a new union organizing everyone from foster care workers to Uber drivers to video game programmers—everyone, in other words, that the rest of the labor movement tends to say can't be unionized. We learn how they've done it and more. 
We also check in on gig economy workers in California after a big victory, and Kickstarter employees who've filed charges of retaliation for union activity. For Argh, we talk about yoga instructors unionizing, and think about what stake unions have in fighting for housing justice for all. 
This week's show was supported by our monthly sustaining members. If you think our work is worth supporting, please consider becoming a member today. If you're interested in advertising on the show, please email ads@dissentmagazine.org. And as always, if you have any questions, comments, or tips, email us at belabored@dissentmagazine.org.

News:
Michelle: Hey, Uber and Lyft: Gig Work Is Work. California Just Said So. (In These Times)
Unionizing Workers Just Accused Kickstarter of Retaliatory Firings in a Federal Complaint (Slate)
Corruption Cases in the Auto Workers Complicate Bargaining (Labor Notes)
Striking GM Workers Deserve Our Support (The Nation)
What's at Stake in the General Motors Strike (Dissent)
Conversation:
Jason Moyer-Lee in the Guardian
Argh: 
Michelle: Marnie Brady, Workers and Renters of the World, Unite!  (Jacobin)
Sarah: Sarah Jones, The Scourge of Worker Wellness Programs (New York)