A report back from Labor Notes's first ever conference in Asia.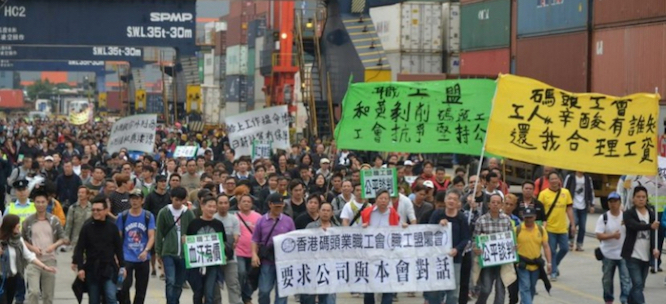 Subscribe to the Belabored RSS feed here. Subscribe and rate on iTunes here or on Stitcher here. Check out the full Belabored archive here. Tweet at @dissentmag with #belabored to share your thoughts, or join the conversation on Facebook. Belabored is produced by Natasha Lewis.
There's a whole world of labor activism outside the confines of the United States, so we're devoting this episode to a breakthrough event in Asia last month. Our friends at Labor Notes held their first ever conference in Asia in August, bringing together labor organizers and activists from across the continent in Taipei. They discussed everything from the Hong Kong strikes to gender discrimination to the challenges of organizing across global supply chains. We caught up with Saurav Sarkar of Labor Notes and Kevin Lin of International Labor Rights Forum for a report back.
In other news, we cover the southeast strike by AT&T featuring Bernie Sanders, an attack on the right to leaflet, the future of gig economy delivery workers, and catch up with Lordstown's Chuckie Denison. With recommended reading on the secret world of art handlers, and the sick politics of worker wellness.
This week's show was supported by our monthly sustaining members. If you think our work is worth supporting, please consider becoming a member today. If you're interested in advertising on the show, please email ads@dissentmagazine.org. And as always, if you have any questions, comments, or tips, email us at belabored@dissentmagazine.org.

News:
State of Pay — Doing Right By Our Shoppers (Medium)
AT&T strike comes to an end after agreement is reached with union (WLOX)
Bernie showed up to a Union Strike against ATT! (YouTube)
Sarah: The Road Not Taken (New Republic)
This May Be the Worst Trump NLRB Decision Yet (On Labor)
Conversation:
Saurav Sarkar and Kevin Lin
Argh: 
Michelle: Zachary Small, The Danger Epidemic in Art Handling (Hyperallergic)
Sarah: Lena Solow, The Scourge of Worker Wellness Programs (New Republic)