Following Hong Kong's first general strike in decades, three activists talk about labor's role in the protests.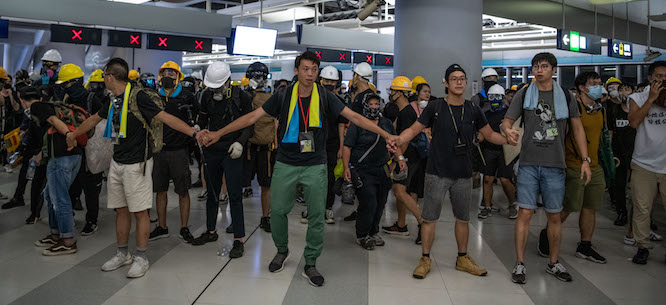 Subscribe to the Belabored RSS feed here. Subscribe and rate on iTunes here or on Stitcher here. Check out the full Belabored archive here. Tweet at @dissentmag with #belabored to share your thoughts, or join the conversation on Facebook. Belabored is produced by Natasha Lewis.
The city-state of Hong Kong, a former British colonial outpost turned reclaimed territory of mainland China, used to be known as one of the best places to do business in Asia. Now it's the best place to wage a mass social uprising. The past few weeks have seen a protest movement against a controversial extradition bill, which would have permitted China to remove fugitives from Hong Kong to the mainland, spiral into an increasingly militant revolt against Beijing's dominion. This past week was punctuated by intensifying street clashes between protesters and police, as well as the first general strike in several decades. We spoke with activists on the ground to gauge what these recent events signify about Hong Kong's restive political insurgencies, the role of the left and labor, and why the latest wave of protests has mobilized people across the social spectrum, even against a backdrop of growing economic frustration and rising inequality.
In other news, we look at young guestworkers in the United States, the economic benefits of abortion access, the collapse of a storied British shipyard, and the social devastation wrought by Homeland Security's latest anti-immigrant raids. And in other news, YouTubers boost a new unionization campaign, and Kentucky mine workers demand justice from King Coal.
This week's show was supported by our monthly sustaining members. If you think our work is worth supporting, please consider becoming a member today. If you're interested in advertising on the show, please email ads@dissentmagazine.org. And as always, if you have any questions, comments, or tips, email us at belabored@dissentmagazine.org.
News:
ICE arrested hundreds of people in raids. Now 'devastated' children are without their parents. (Washington Post)
Protecting your constitutional rights during a workplace raid (UFCW)
The Economic Effects of Abortion Access: A Review of the Evidence (IWPR)
Save Harland and Wolff (Tribune)
Foreign students hired for summer jobs in US subjected to abuses, says study (Guardian)
Shining a Light on Summer Work: A First Look at Employers Using the J-1 Summer Work Travel Visa (ILRWG)
Conversation:
L.H. Au, Workercom
Jeffrey Ngo, chief researcher, Demosistō
Wong Yu-loy, Organising Coordinator, Hong Kong Confederation of Trade Unions    
Michelle: One Country, Two Systems, Millions in the Streets (Dissent)
Hong Kong's Fight for Life (Dissent)
The Rebellion in Hong Kong Is Intensifying (Jacobin)
Other Voices from the Anti-Extradition Movement (闯 Chuǎng)
Argh: 
Sarah: Alexandra Bradbury, Kentucky Miners Are Camped Out on Railroad Tracks, Blocking a Coal Train, Demanding Their Stolen Wages (Labor Notes)
Michelle: Edward Ongweso Jr, The YouTubers Union Is Not Messing Around (Vice)