Stop & Shop workers staged the biggest private-sector strike in years. We talk to two of the strikers about what they won.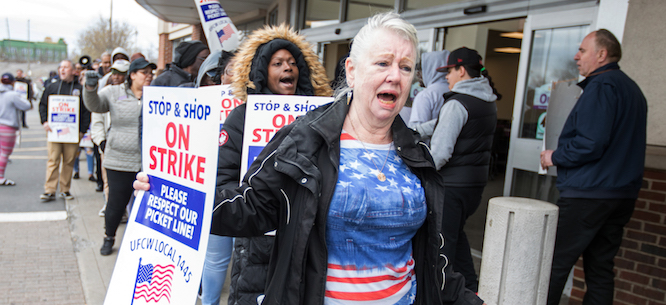 Subscribe to the Belabored RSS feed here. Subscribe and rate on iTunes here or on Stitcher here. Check out the full Belabored archive here. Tweet at @dissentmag with #belabored to share your thoughts, or join the conversation on Facebook. Belabored is produced by Natasha Lewis.
Marching from the checkout line to the picket line, Stop & Shop workers staged the biggest private-sector strike in years, and came away with a pending contract agreement this week. More than 30,000 workers across New England stopped work for about three weeks, while their union, UFCW, kept the pressure on in talks over what many dismissed as a "union-busting" contract proposal. In the end, they won pay raises, preserved healthcare and pension benefits, and reached a deal over protecting contract terms for future workers. We caught up with two veteran Stop & Shop workers to talk about the strike and what it says about the labor movement today.
In other news, we look at academic union organizing at University of Pittsburgh and Rutgers, struggles of factory workers in Bangladesh's garment sector with union organizers Mousumi and Sima, and the perils facing construction workers in New York. With recommended reading on child labor "kidfluencing" on social media and student debtors and radical faculty smashing the ivory tower.
This week's show was supported by our monthly sustaining members. If you think our work is worth supporting as we soldier on through Trumplandia, please consider becoming a member today. If you're interested in advertising on the show, please email ads@dissentmagazine.org. And as always, if you have any questions, comments, or tips, email us at belabored@dissentmagazine.org.
News:
Worker killed by falling crane counterweight in NYC (AP)
Rutgers reaches contract agreement with faculty to avoid disruptive strike (NorthJersey.com)
Amidst Wave of Deadly Fires, Bangladesh Government Threatens to Expel the Only Credible Building Safety Program in the Country and Further Suppress Workers' Rights (Clean Clothes Campaign)
Conversation with Jose Lopes and Celene Blaisdell:
Stop & Shop Reaches Tentative Contract Deal, Ending Strike (Bloomberg)
UFCW Announces Tentative Agreement for Stop & Shop Workers (UFCW)
Stop Shopping At Stop & Shop (Jacobin)
Argh:
Sarah: Julia Carrie Wong, 'It's not play if you're making money': how Instagram and YouTube disrupted child labor laws (Guardian)
Michelle: Ann Larson, Academia, Grassroots Organizations, and Debt: Towards a Genuine Collaboration (Public Seminar)