The history of the IWW—and its concept of "One Big Union"—holds lessons for the labor movement today.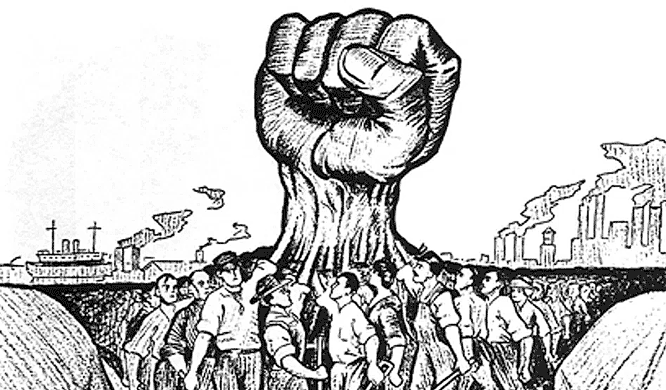 Subscribe to the Belabored RSS feed here. Subscribe and rate on iTunes here or on Stitcher here. Check out the full Belabored archive here. Tweet at @dissentmag with #belabored to share your thoughts, or join the conversation on Facebook. Belabored is produced by Natasha Lewis.

The labor movement is facing existential crises the world over—in the United States, it's staring down the face of a Trump administration and Trump-appointed Supreme Court likely to overturn long-accepted labor laws and regulations. But even before Trump, the problems were many—so many that labor's attempts at new organizing in recent years, like the Fight for $15 and OUR Walmart, often went outside of the expected collective bargaining model.
There are predecessors for this kind of organizing, and a history of unions from before the days of the NLRB. This week, we bring you Michelle's conversation with labor historian Peter Cole, co-editor of a new book on the Industrial Workers of the World, Wobblies of the World: A Global History of the IWW. Then, Michelle and Sarah discuss what the Wobblies mean for the labor movement's challenges today. Is "One Big Union" still a relevant concept—or a more relevant concept than ever, perhaps?
If you think our work is worth supporting as we soldier on through Trumplandia, please consider becoming a sustaining member of Belabored or donating or subscribing to Dissent. Help keep us going for the next 137 episodes!
Conversation 
Wobblies of the World: A Global History of the IWW edited by Peter Cole (@ProfPeterCole), David Struthers, and Kenyon Zimmer 
Wobblies — A new history of a radical union that profoundly impacted Southern African politics (Africa is a Country)
Sarah and Michelle: Belabored Podcast #136: Countdown to Janus, with Andy Stettner (Dissent)
What the Revival of Socialism in America Means for the Labor Movement (In These Times)
Become a Workers' Movement for the 21st Century (New Socialist)