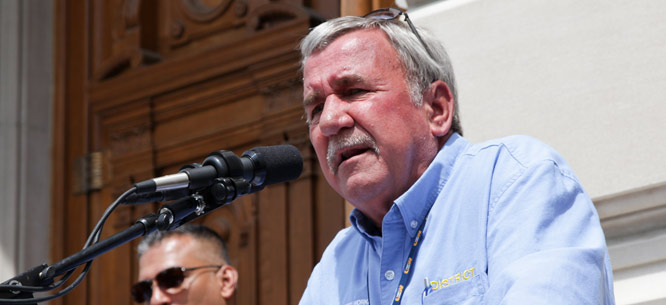 Subscribe to the Belabored RSS feed here. Subscribe and rate on iTunes here or on Stitcher here. Check out the full Belabored archive here. Tweet at @dissentmag with #belabored to share your thoughts, or join the conversation on Facebook. Belabored is produced by Natasha Lewis.
The news cycles come and go, and Trump's Twitter outbursts are fleeting, but when the spotlight fades, what happens to the workers whose struggles are year round, even lifelong? Sarah Jaffe speaks to labor organizers at the heart of the Rust Belt to illuminate some of the many crises engulfing working people today, and the deep frustration among communities who, before and after the election, have felt economically and politically disenfranchised. The story behind our current political moment is, as always, more complex than it seems.
In other news, we look at mobilization for immigrant workers in New York, striking tech company workers in Silicon Valley, students and parents standing up for an activist teacher in Chicago, and ironworking moms' campaign for workplace justice. With recommended reading on the agony of Appalachia and the unknowns of universal basic income.
News
Michelle: Undocumented Bakers Are Planning 'A Day Without Bread' This Friday (The Nation)
Brandworkers campaign for Tom Cat workers
Facebook Gives Staff Green Light to Join May 1 Political Protests (Bloomberg)
Women Ironworkers Will Get Six Months Of Paid Maternity Leave (Buzzfeed)
Students, Parents Rally For Special Ed Teacher Facing 'Political' Firing (DNA Info Chicago)
Conversation: Chuck Jones, John Feltner, and  Gary Canter in Indianapolis
Sarah:  Back at the Carrier Plant, Workers Are Still Fighting on Their Own (The Nation)
Argh! I Wish I'd Written That
Michelle: Alyssa Battistoni, The False Promise of Universal Basic Income (Dissent)
Sarah: Laura Reston and Sarah Jones, Appalachia Needs Big Government (New Republic)