Bill Londrigan of the Kentucky AFL-CIO joins us to talk about the right-to-work bill that just passed in his state, and the fight to maintain union power under a hostile regime.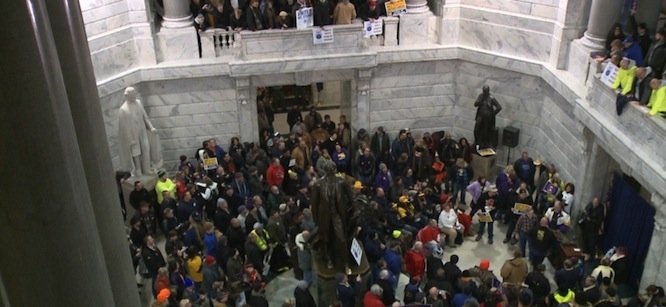 Subscribe to the Belabored RSS feed here. Subscribe and rate on iTunes here or on Stitcher here. Check out the full Belabored archive here. Tweet at @dissentmag with #belabored to share your thoughts, or join the conversation on Facebook. Belabored is produced by Natasha Lewis.

We knew it was coming on election night: the expanded push for so-called "right-to-work" laws, which defund unions by allowing workers to avoid paying the costs of their representation while requiring the union to represent them anyway. And since then, Missouri, New Hampshire, and Kentucky have seen the bills introduced, and Kentucky—the last state of the Old South to not have such a law—has seen it pass, along with other assaults on workers' organizing rights. We talk with Bill Londrigan of the Kentucky AFL-CIO about the response of the working people of Kentucky, the fight in his state and around the country to maintain and even expand union power under a hostile regime.
We also check in on a couple of Trump's cabinet appointees, Betsy DeVos and Andy Puzder, and their discontents, the ongoing battle over Uber drivers' rights, and a planned women's strike against the incoming administration. For Argh, we look at the jobs men don't want to do (spoiler alert: the ones mostly done by women) and prepare for the coming battles by considering the power that people deemed powerless actually have.
If you think our work is worth supporting as we soldier on into Trumplandia, please consider becoming a sustaining member of Belabored or donating or subscribing to Dissent. Please help keep us going for the next 119 episodes!

News
Teachers Unions Mount Campaign Against Betsy DeVos, Trump's Education Pick (Washington Post)
A sobering look at what Betsy DeVos did to education in Michigan — and what she might do as secretary of education (Washington Post)
Restaurants run by labor secretary nominee report 'disturbing' rates of sexual harassment (Guardian)
Gov. Cuomo calls for Uber, tuition-free college in State of the State (WHEC)
It's Not Too Late to Fix Cuomo's Awful Uber Bill (Streetsblog NYC)
Thousands of women will go on strike to protest Trump's inauguration (ThinkProgress)
On Inauguration Day, Don't Go to Work. Don't Buy Anything. We Need A National Strike to Stop Trump. (In These Times)
Kentucky State AFL-CIO Responds to Republican Assault on Working People (AFL-CIO)
Kentucky Republicans Pass Right-To-Work, Dropping The Hammer On Unions (Huffington Post)
Hundreds fill [New Hampshire] Representatives Hall for hearing on right-to-work bill (Concord Monitor)
[Missouri] Right-to-work measures advance, unlikely to appear before voters (St. Louis Post-Dispatch)

Argh, I Wish I'd Written That!
Michelle: Claire Cain Miller, Why Men Don't Want the Jobs Done Mostly by Women (New York Times)
Sarah: Melissa Chadburn, If you're in the fight, get ready to do the work (DAME)