We look at some bright spots from the election, including the story of how a unique labor-community coalition in Arizona helped defeat the reelection bid of the infamous bigot Sheriff Joe Arpaio.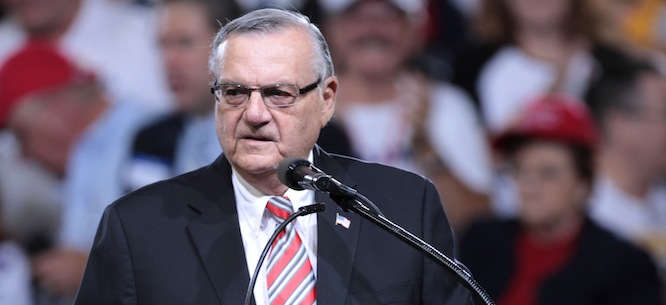 Subscribe to the Belabored RSS feed here. Subscribe and rate on iTunes here or on Stitcher here. Check out the full Belabored archive here. Tweet at @dissentmag with #belabored to share your thoughts, or join the conversation on Facebook. Belabored is produced by Natasha Lewis.
As we end a week of horrible news, we've managed to unearth some bright spots from Election Day: two stories that may not be able to offset our collective despair, but at least help steel us with a little more courage and optimism as activists and organizers seek to move on after November 8.
We talk with CUNY professor Stephanie Luce about voting trends that are actually good for the left and labor, and how state ballot initiatives delivered wins to working people even when the presidential race didn't. And immigrant rights activist and AFL-CIO organizer Neidi Dominguez, and AFGE organizer Joe Diggs, take us behind the scenes of the Bazta Arpaio campaign, a unique labor-community coalition that helped defeat the reelection bid of the infamous anti-immigrant bigot Sheriff Joe Arpaio, aka mini Trump. And we discuss a post-Trump autopsy for the labor movement, and a union's last stand at Standing Rock.
If you think our work is worth supporting as we soldier on into Trumplandia, please consider becoming a sustaining member of Belabored or donating or subscribing to Dissent. Please help keep us going for the next 116 episodes!

News, with Stephanie Luce
Minimum wage a big winner on Election Day (National Employment Law Project)
Bay Area Cities Split on Multiple Rent-Control Measures (KQED)
9 Progressive Outcomes From Election Day That Will Give You Hope (Popsugar.)
Stephanie Luce: And a Union (Jacobin)

Conversation
Neidi Dominguez and Joe Diggs, Bazta Arpaio
Sheriff Joe Arpaio Loses Bid for 7th Term in Arizona (New York Times)
Excerpts from IBEW Member Rene Cruz's Diary from the Bazta Arpaio Campaign in Arizona (AFL-CIO)

Argh, I Wish I'd Written That!
Michelle: Bill Fletcher, Jr., Notes From a Very Close Election (Dissent)
Sarah: Kate Aronoff, LIUNA's Rank-and-File is Challenging Union Leadership on Standing Rock—and Beyond (In These Times)