Last week's general strike in India might have been the largest strike in history.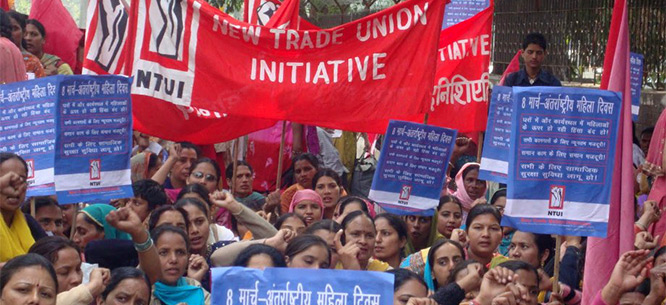 Subscribe to the Belabored RSS feed here. Subscribe and rate on iTunes here or on Stitcher here. Check out the full Belabored archive here. Tweet at @dissentmag with #belabored to share your thoughts, or join the conversation on Facebook. Belabored is produced by Natasha Lewis.

About 150 million to 180 million people walked off the job on September 2. You probably didn't hear about it on the news though, since it happened on the other side of the planet. We talk to two observers of the Indian labor movement today, Vamsi Vakulabharanam, associate professor of economics at U Mass Amherst and a Gautam Mody, General Secretary of the labor advocacy coalition New Trade Union Initiative, based in New Delhi, to get an overview of how India's working people are responding to the government's efforts to "open" India to global trade and rollback labor rights.
We also talk to Emily Drabinski of the Long Island University Faculty Federation on the latest (good!) news about the end of an unprecedented lockout in the world of higher education, get a dispatch from a nationwide prison strike, crunch the numbers on how a $15 minimum wage can feed the hungry, and follow a bitter labor dispute at a Peeps candy factory. With recommended historical reading on rural labor struggles and civil rights, and migrant women's labor struggles in working-class London.
Belabored invites our listeners to join us as supporting members. Sign up to support us with a monthly donation and we'll send you a tote bag. Please help keep us going for the next 100 episodes!

News
Remembering Attica (Jacobin)
National Day of Solidarity with Striking Prisoners, with Pastor Kenneth Glasgow (Southern People's Initiatives)
Michelle: A $15 Minimum Wage Would Stop 1.2 Million Households From Going Hungry (The Nation)
Just Born hiring replacement workers as strike continues (lehighvalleylive.com)
Lockout Over (Long Island University Faculty Federation)
Faculty Lockout at L.I.U.-Brooklyn Ends With Contract Agreement (New York Times)
Michelle: When Migrant Women Marched in London (CultureStrike)

Conversation
Vamsi Vakulabharanam, Associate Professor of Economics, University of Massachusetts, Amherst
Gautam Mody, General Secretary, New Trade Union Initiative
India Is Making Labor History With the World's Largest General Strike (Alternet)

Argh, I Wish I'd Written That!
Sarah: Shailly Gupta, Organizing with Klansmen for Social Justice: Bob Zellner Tells His Story (In These Times/Kairos Center)
Michelle: Bethan Bell & Shabnam Mahmood, Grunwick dispute: What did the 'strikers in saris' achieve? (BBC)