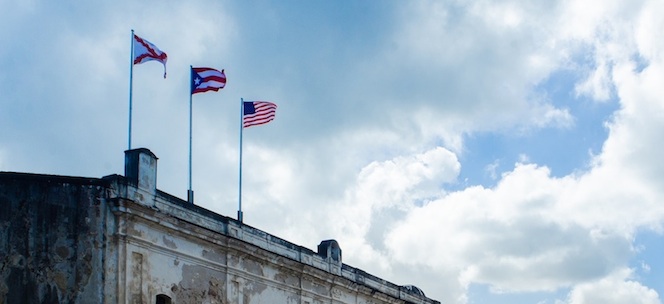 Subscribe to the Belabored RSS feed here. Subscribe and rate on iTunes here or on Stitcher here. Check out the full Belabored archive here. Tweet at @dissentmag with #belabored to share your thoughts, or join the conversation on Facebook. Belabored is produced by Natasha Lewis.

Puerto Rico's debt crisis has been a long time in the making, but will the solutions being advocated by the U.S. government (for which, we should remember, Puerto Ricans cannot vote) make it any better? Dr. Héctor R. Cordero-Guzmán, professor of sociology at Baruch College of the City University of New York, says that the U.S. government and the bondholders have something like a gun to the head of Puerto Rico, demanding their piece. He joins us to explain the situation, and to remind us that the situation does, indeed, have analogues within the continental United States.
We also hear from Mayra Gonzalez, a striking worker from the Trump Taj Mahal casino in Atlantic City, and bring you updates on the Supreme Court's ruling for home care workers' rights, Chris Christie's response to the $15 minimum wage, and teachers on strike for better schools and freedom for migrants in post-Brexit-vote England. For Argh, we consider the work of a hospice nurse, and in the wake of yet more police violence, a look at the criminalization of the "side hustle."
Belabored invites our listeners to join us as supporting members. Sign up to support us with a monthly donation and we'll send you a tote bag. Please help keep us going for the next 100 episodes!

News
Michelle: Home-Care Workers are Now Protected by Minimum-Wage Laws (The Nation)
Previous discussions of home care workers' rights on Belabored episodes #85, #56, and #38 (Dissent)
Pressure, no budgets and 60-hour weeks: why teachers are striking (Guardian)
Dear Nicky Morgan: this is how to deal with post-Brexit racism (Guardian)
Michelle: The Fight for $15 Won in New Jersey but Chris Christie May Veto It (The Nation)
A Thousand Workers At The Trump Taj Mahal Are Still On Strike (Huffington Post)
How Donald Trump Bankrupted His Atlantic City Casinos, But Still Earned Millions (New York Times)

Conversation
Puerto Rico Control Board: A Dangerous Increase of Colonialism or Vital Protection from Wall St.? (Democracy Now!)
How Hedge and Vulture Funds Have Exploited Puerto Rico's Debt Crisis (The Nation)
Orwell in Puerto Rico: Congress 'Promises' a New Dictatorship (The Nation)

Argh, I Wish I'd Written That!
Sarah: Emily Badger, Wonkblog at the Washington Post, "Alton Sterling, Eric Garner and the double standard of the side hustle" (Washington Post Wonkblog)
Michelle: Larissa MacFarquhar, "A Tender Hand in the Presence of Death"  (The New Yorker,