A conversation with Gabriel Thompson about America's Social Arsonist, his new biography of legendary organizer Fred Ross.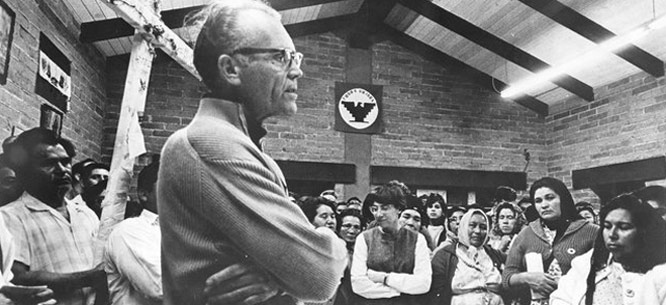 Subscribe to the Belabored RSS feed here. Subscribe and rate on iTunes here or on Stitcher here. Check out the full Belabored archive here. Tweet at @dissentmag with #belabored to share your thoughts, or join the conversation on Facebook. Belabored is produced by Natasha Lewis.

Fred Ross was an organizer's organizer: for decades he labored tirelessly behind the scenes to help develop major social and economic justice movements, including the farmworkers' organizing drives of the 1960s and other iconic civil rights struggles. But Ross was also one of the most understated and unsung legends of community organizing. While he is primarily known for his partnership with United Farmworkers leader Cesar Chavez, his work as an activist traces the arc of America's social history from the Great Depression onward.
Longtime friend of the podcast Gabriel Thompson, a Steinbeck Fellow in Creative Writing at San Jose State University, has excavated Ross's historical archives. His new biography, America's Social Arsonist, is a frank and complex account of the activist's legacy. We speak with Thompson (whom Belabored last interviewed back on Episode 7 when he just beginning work on his book) to elucidate the achievements and imperfections of a quietly influential organizer, and what his career can teach us today.
In the news, we look at the new overtime rules and dirty dealings between McDonald's in Australia and its management-friendly union. Plus, a dispatch from the front lines of the Verizon strike, and international labor outreach from Queens to Quezon City, with Tim Dubnau of Communications Workers of America and Michael Concepcion of Filipino labor group BIEN. And finally, recommended reading on nonprofit exceptionalism in the labor movement and the exploited Eastern European guestworkers hidden in Silicon Valley.

News
New Overtime Rules a Boon for Middle-Class Workers (Newsweek)
Obama's new overtime rule spotlights just who the 'working class' is. And it's not Trump voters (Fortune)
Michelle: Filipino Workers Are Seizing the Means of Communication in the Fight Against Verizon (The Nation)
Statement on the Strike of Verizon Workers in the United States (BIEN Philippines)
Verizon Is Seeing a Big Dip in New Customers Due to Strike (Fortune)
Hamburgled: McDonald's, Coles, Woolworths workers lose in union pay deals (The Age)

Conversation
Gabriel Thompson's author website
Fred Ross: America's Social Arsonist
Belabored Podcast #7: Social Arsonists

Argh, I Wish I'd Written That!
Ethan Miller, Progressive Nonprofits That Oppose the New Overtime Rules for Low-Income Workers Are Hypocrites (In These Times)
Louis Hansen, The Hidden Workforce Expanding Tesla's Factory (Bay Area News Group/Mercury News)