A mental healthcare provider discusses the pandemic's effects on her work.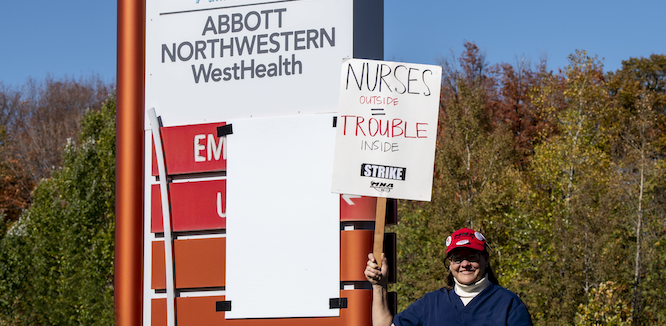 Subscribe to the Belabored RSS feed here. Support the podcast on Patreon. Subscribe and rate on iTunes, Stitcher, and Spotify. Tweet at @DissentMag with #Belabored to share your thoughts, or join the conversation on Facebook. Check out the full archive here. Belabored is produced by Colin Kinniburgh.
This week begins our new series on workers and the pandemic. While politicians and many people would like to pretend that COVID-19 is over, for so many workers the damage done by the virus and the inadequate response continues to compound. For the rest of the year, we'll be talking in depth with people who work in industries that have borne the brunt of the risk, the pain, and the grief of the pandemic in America. And we'll be wrapping the series up with a virtual live event!
This week, we spoke with Kellie Benson, 

senior mental health coordinator at Allina Abbott Northwestern Hospital in Minneapolis and a member of SEIU Healthcare Minnesota and Iowa. Healthcare workers are, of course, the first people we think of when we think of the impact of COVID-19, but the mental health pandemic that has come alongside the virus is less often discussed, and for mental healthcare workers, the two issues are deeply intertwined. Benson tells us about how her work has changed, and the ongoing struggle of mental health workers for fair pay, safe staffing, and support on the job.
In the news, we look at a general strike in Palestine and the victory of Oklahoma City Apple Store workers, a nationwide strike vote for British university workers and a union drive at Netflix.
Thank you for listening to our 258th episode! If you like the show, you can support us on Patreon with a monthly contribution, at the level that best suits you.
If you're interested in advertising on the show, please email ads@dissentmagazine.org. And as always, if you have any questions, comments, or tips, email us at belabored@dissentmagazine.org

News
Netflix Music Supervisors File for Unionization Election at Labor Board, International Alliance of Theatrical Stage Employees
Jazz Tangcay, Netflix Music Supervisors Seek Unionization Vote, Variety
Noam Scheiber, Apple Store in Oklahoma City Becomes Second to Unionize, New York Times
University staff vote for UK-wide strike action in historic ballot, University and College Union
Sally Weale, UK university staff vote for strike action over pay, conditions and pensions, The Guardian
Mariam Barghouti and Yumna Patel, What is happening in the West Bank right now: a full breakdown, Mondoweiss
Palestinians strike in West Bank, Jerusalem over Israel killings, Al Jazeera
Sarah and Michelle: Belabored: General Strike in Palestine, Dissent


Conversation
SEIU Healthcare Minnesota & Iowa
Kiya Edwards, Mental health workers announce one-day walkout strike, KARE 11
Max Nesterak, Mental health workers launch 3-day strike at Allina hospitals in Twin Cities, Minnesota Reformer

Thanks to the Ford Foundation of Social Justice for sponsoring this series.