Celine McNicholas of the Economic Policy Institute digs into the PRO Act and other labor policies currently on the table.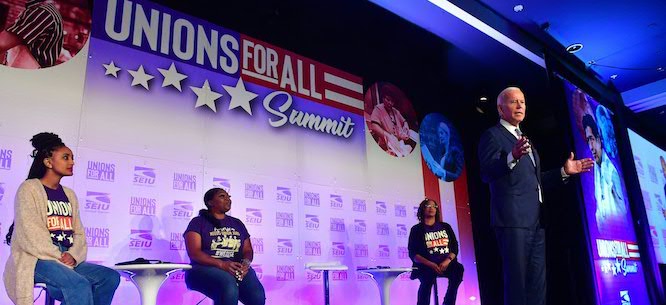 Subscribe to the Belabored RSS feed here. Support the podcast on Patreon. Subscribe and rate on iTunes, Stitcher, and Spotify. Tweet at @DissentMag with #Belabored to share your thoughts, or join the conversation on Facebook. Check out the full archive here. Belabored is produced by Colin Kinniburgh.
When Joe Biden was campaigning for president, he never came across as the most pro-labor candidate. Indeed, the left flank of the Democratic (or rather, anti-Trump) vote tended to gravitate toward Bernie's full-throatedly populist, democratic socialist agenda. But in the end, Biden rode into the White House with a lot of the labor movement's hopes—along with some healthy skepticism—pinned on him. Now that his administration is starting to roll out its labor agenda—which includes a number of progressive demands such as a $15 minimum wage, expansion of workers' right to organize, and beefed-up health and safety protections—we're taking a hard look at what the landscape will look like under Biden, especially now that the Democrats control both chambers of Congress. We talked to Celine McNicholas, Director of Government Affairs and Labor Counsel with the Economic Policy Institute, to get the low-down on what we can expect, and dare to hope for.
In other news, we remember Karen Lewis of the Chicago Teachers Union, and look at Amazon's hiring practices in Britain, a new movement to organize influencers, the Fight for $15 strikes, and a transnational lawsuit against enslaved child labor in the chocolate trade. With recommended reading on teachers in the scramble for vaccines and Indian farmers in the streets of New Delhi.
We are now on Patreon! You can sign up to support us with a monthly contribution, at the level that best suits you.
If you're interested in advertising on the show, please email ads@dissentmagazine.org. And as always, if you have any questions, comments, or tips, email us at belabored@dissentmagazine.org
News
SAG-AFTRA Approves New Influencer Agreement (Backstage)
While DC Keeps Debating a $15 Minimum Wage, Fast-Food Workers Are Striking for It Now (Mother Jones)
Hershey, Nestlé, Mars and Other Chocolate Makers Named in Child Slavery Class Action Lawsuit (EcoWatch)
Amazon's Empty Pledge Leaves Agency Workers Without Shifts and Pay (Bureau of Investigative Journalism)
Conversation
Why workers need the Protecting the Right to Organize Act: How the PRO Act solves the problems in current law that thwart workers seeking union representation (Economic Policy Institute)
CBO analysis confirms that a $15 minimum wage raises earnings of low-wage workers, reduces inequality, and has significant and direct fiscal effects (Economic Policy Institute)
The economy Trump handed off to President Biden: 25.5 million workers – 15.0% of the workforce – hit by the coronavirus crisis in January (Economic Policy Instute)
Biden Moves Fast on Pro-Labor Agenda (nwLaborPress)
Argh, I wish I'd written that!
Michael Sainato, 'It's been scary': getting vaccinated akin to lottery for US teachers, (The Guardian)
Ullekh N.P., In India, Farmers Are Resisting Narendra Modi's Propaganda Machine, (The Nation)